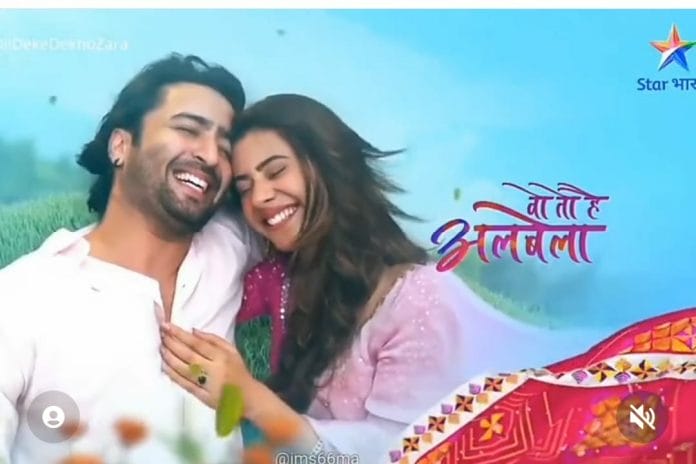 Woh Toh Hai Albela 23rd September 2022 Written Update on TellyExpress.com
The episode starts with Sayuri and Kusum working in kitchen. Sayuri is scared about whether she could be able to do it. Kusum says that she can understand her fear. She says that as a woman they have the regular pressure but are has the extra pressure to prove herself to Saroj too. She encourages her that everything would be fine. She asks her to go and take care of the women while she would make the tea. Saroj hears it all.
Nakul asks Dhanraj why the ladies are wearing ghunghat. Dhanraj says that it's their tradition. He says that though the times have changed a lot some people still follow the old tradition. Dhanraj asks Nakul to call Kanha and he video calls him. He praises his vlog and Kanha scolds him for upsetting Rashmi.
Nakul says about Rashmi's weird behavior. Kanga says girls have their own insecurities when they come from their own house to another house. He says the time between engagement and marriage is quite stressful for them and he needs to understand it.
Kanha asks him to take Rashmi out as he's quite free now. Nakul says he's worried that he would be needed there but Kanha asks him to make Rashmi understand. Kanha assures to come back soon. Sayuri gets shocked when servants brings tea in paper cups. She gets embarrassed giving it to the women when Kanha video calls her. He speaks casually with the women which lightens the environment. Sayuri thanks Kanha got the same and Kanha asks if something is wrong. Sayuri hides it from him.
Sayuri is working with the women when Nakul signals Rashmi for coffee date. They both leave while Saroj forbids Kusum from cooking for the women. Kusum calls out her behaviour and asks her to respect those whose there to help them. She says Sayuri is giving her life to succeed in the project. Sayuri hears their talks and goes out.
Rashmi is shopping jewels with Nakul but Nakul is least interested. Rashmi gets irritated over the same but Nakul says that it's all new for him and asks her not to misunderstand. He waits outside while Rashmi envies Sayuri. Sayuri is cooking for the women with Indrani and Dadi. The ladies starts feeling hungry. Saroj provokes the ladies against Sayuri portraying as if Sayuri is the one who gave them tea in paper cups and as an evil vile woman. Sayuri is happily making lunch for the women.
Precap : Sayuri lashes out at Saroj for creating one after another hindrance in her pathway. She will still say that she would cross all her hindrances and succeed in her work. She will be about to go when she sees Kanha.
The episode starts with Sayuri asking Nakul to make printout for client meeting while she would need to convince the employees and their families. Nakul says that he's ready to do any thing for her. Saroj and Rashmi hears it hiding. Saroj provokes Rashmi that Sayuri is taking advantage of Nakul's innocence to order him around.
Rashmi says that it's her old habit to order around people. Rashmi says Nakul to go out for coffee date with her. Nakul says it's not possible as they have lots of work and asks her to join too. Rashmi says that she don't want to be anyone's assistant. She says their coffee date is due.
Saroj agrees with Rashmi's words and says Nakul that they need to spend time with each other before marriage. Sayuri says that they don't have time right now as tomorrow deal would get finalised and they can happily go out after tomorrow. Rashmi taunts her for not letting them spend time together.
Nakul says that they have much work to complete and Sayuri also tries to make it her understand but in vain. Saroj will scold Sayuri for not letting them enjoy their pre marriage phase. Sayuri asks Nakul to go as she would take care. Nakul agrees reluctantly while Saroj gives money to Rashmi for her expenses. Rashmi asks Nakul to not come so upset and returns the money to Saroj apologizing her. She left angrily. Saroj scolds Sayuri for not letting them spend time together.
Click to read