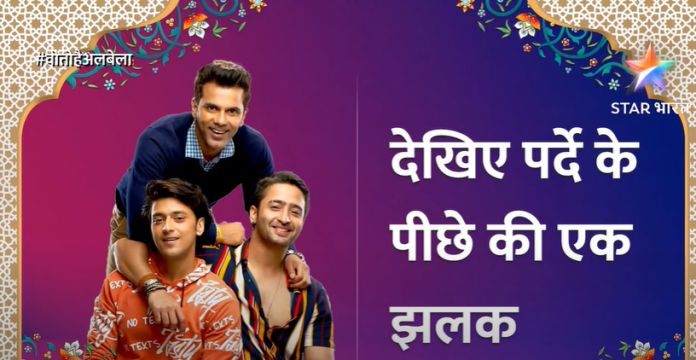 Woh Toh Hai Albela 23rd June 2022 Written Update on TellyExpress.com
The episode starts with Sayuri noticing Kanha drowsy and asks about it. Kanha says that suddenly he feels a little dizzy. They both decide to go home. Anjali comes there and Sayuri thanks her for inviting them for such a good party. Anjali says its fine and they both leave. Anjali thinks that she wanted to spend time with Kanha when he's alone but is still fine as she's sure Kanha would say something to her in her inebriated state which could cause problems between them.
Rashmi and Nakul are driving and Rashmi says today two of her wishes got fulfilled. One is attending a party and second one is going for a long drive. Nakul asks her not to worry as he would take her again but Rashmi says he can't be with her forever. Nakul agrees with her statement. Kanha and Sayuri are driving and Sayuri notices Kanha tipsy. She asks if she's drunk but Kanha says he won't drink or smoke. Sayuri asks if he got drunk by mistake but Kanha refuses it. They
Indrani is preparing the delivery orders and scolded Priya when she took Rashmi's name. Dadi asks her not to take Saroj's words to heart as she never likes them. Indrani says that there are two types of men who doesn't want their wife to succeed while the other type of men like Kanha who wants to lift their wives by making them succeed with them.
Kanha asks Sayuri whether he's driving fast and Sayuri says he does. It's revealed that they both have not moved an inch and are now they are still at entrance. Kanha sees that he hasn't put on the keys and says Sayuri that he's exceptional to drive without even keys. Sayuri hides her smile from Kanha. Kanha say that he's missing Chiru as he's his partner in all his activities. Sayuri also gets emotional..
Indrani and Dadi are discussing about Sayuri and thinks Thad she's really luck to have someone like Kanha as her husband. Dadi says that Sayuri is blessed and will shine in her life. Priya also feels happy for Sayuri and wonders where is Rashmi.
Rashmi gets down in front of her house and says Nakul thanks for the great party. Nakul says he would come to leave her at her place to ensure her safety. Kanha notices that they haven't started the vehicle and tries starting it but Sayuri stopped him and tried taking away the keys. Nakul says she looked cute till yesterday but now she's looking hot.
Sayuri's hair gets stuck in Kanha's air and Sayuri tries taking it out. Anjali is watching Sayuri and Kanha's dance video and is fuming. Her father asks whether she didn't sleep yet. Anjali says that she won't stop until they gets separated. Sayuri sits in driving seat and helps Kanha with the seat belt.
Nakul comes home and Saroj asks about Kanha but Nakul says they are on the way. He leaves to sleep. Saroj calls Anjali but she's doesn't pick up. She's decides to call Sayuri having bo option. Sayuri asks Kanha that why he isn't driving the bike for which Kanha says he was scared. Saroj gets a video message from Anjali and gets shocked.
Precap : Sayuri will ask Kanha to not lose his innocence forever. Kanha will say Sayuri that whether he really fell in love with her.
Click to read