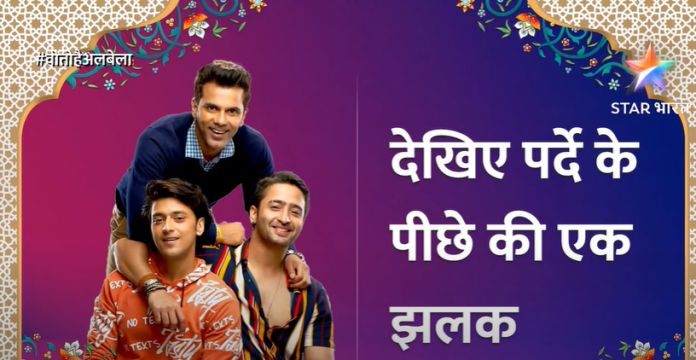 Woh Toh Hai Albela 24th June 2022 Written Update on TellyExpress.com
The episode starts with Saroj watching Sayuri and Kanha dance in the party and fumes. Saroj blames Sayuri for trapping her son in her trap and prays God to save her son from her. Sayuri asks her to stay albela and not change for anyone. She says that whatever happened has no fault of his.
Kanha recalls whatever happened. Sayuri asks he won't leave his real side right. Kanha asks her to stop the car and gets down from it. He starts walking away and Sayuri runs after him. She asks what happened and asks him to not lose his own identity to become Chirag. She says it's true Chirag died in the accident but it's him whom we lost with his death.
Sayuri explains that he can very well take Chirag's place but without losing his place. She says that he is handling the business well and is fulfilling all the duties responsibly. However she doesn't want him to lose his albelpsn in the process. She asks for him to promise that be the same albela and be unique. Kanha thinks for a while but then agrees that he would try not to lose it. Sayuri smiles and is happy for him.
Rashmi explains whatever happened to Priya. She says they danced and played games. She shows their dance video to her. Indrani hears them. Rashmi says that Kanha took care of Sayuri so well and even danced with him in the party. Indrani gets happy hearing it and is about to move away when she hears Rashmi takes Nakul's name.
Rashmi says that Nakul is also really good who took care of well in the party without feeling her left out in the party. She says that he's very cute and caring that even after leaving her at home, he followed her and made sure that she entered house safely. Indrani recalls Saroj's words and gets worried. Indrani shakes away the thoughts.
Kanha asks Sayuri that he wants to say something to her. Sayuri asks him to say but he doesn't answer. They both gets in car and Kanha pours out his heart feelings to Sayuri. He says that there were so many who were in the party but she looked separate from them and looked stunning.
Sayuri gets stunner. Anjali's father asking for Anjali to leave as even the staffs left the hotel. Anjali refuses to leave as she's sure that something wrong would happen and Kanha would come to her. Her father asks her to not act stupid as Kanha wouldn't come as he's with Sayuri. He says he switched off his phone to so that none disturbs them. Anjali feels upset.
Kanha says Sayuri that he felt very happy whenever she supported him against Saroj and anyone. He says that he started admiring her. He feels something fluttering inside whenever she appears and says he's admiring her each and entry activity. He wonders why something strange happening with him whenever she comes near and his heart flutters for ever.
Sayuri feels uncomfortable. Kanha asks whether he really fell in love with her shocking Sayuri. They bump their car somewhere. Nakul finds Saroj still worried and asks her not to worry as they would be on their way. Dhanraj also says the same but Saroj is not convinced.
Sayuri wakes up after sometime and finds Kanha unconscious. She trues waking him and he doesn't respond. She hugs him and shouts at him to open his eyes. Kanha wakes up. Saroj says that she can't sleep unless and until her children come home. Dhanraj says all the possible reasons that could get them late but Saroj is not at all convinced. She says that she can't sleep well unless and until her child returns home.
Dhanraj consoles her. Kanha asks what happened and Sayuri says they got into an accident and they both check for each other's safety. Kanha checks the car and blames Sayuri for the accident. Sayuri blames him back for diverting her attention by confessing that he loves her shocking Kanha.
Precap : Sayuri will get robbed off by offers. They asks for her nuptial chain too but Sayuri refuses to give it to anyone. They were about to stab her with a knife but Kanha will hold the knife.
Click to read