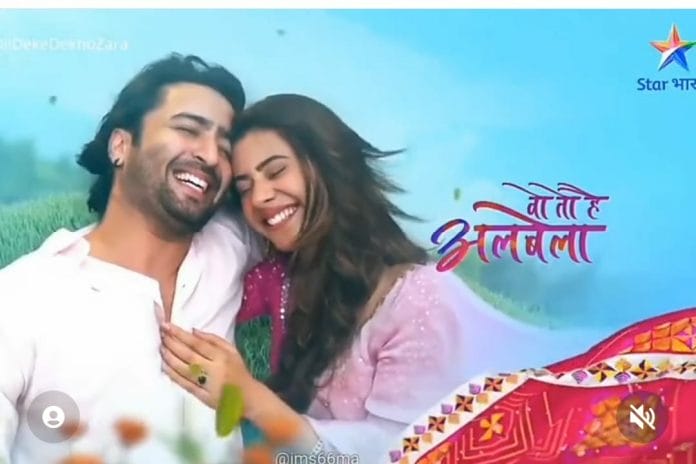 Woh Toh Hai Albela 27th October 2022 Written Update on TellyExpress.com
The episode starts with Rishi's father wanting to stop the marriage. Saroj pleads with him to not punish Kusum for Kanha's mistake. Rishi's father says that the marriage will not happen but Rishi refuses to do so as he already accepted Kusum as his wife. Dadi praises Rishi's good quality. Kanha pleads Vaishali to say the truth and asks if she was threatened.
Vaishali still refused to go back at ner words and leaves asking him not to contact her again. He comes in to find Rishi and Kusum getting married completing pheras and applying sindoor and mangalsutra. Kanha goes in frustrated and Sayuri comes at the back of him. She asks him to not accept defeat. Kanha asks what could they do when the marriage is over. Sayuri says that they shouldn't end giving up easily. He gets Rishi's mocking message to come and bid their final good bye.
Kanha comes out and Saroj asks him to touch Rishi's feet and Sayuri touches Kusum's feet. Kanha touches Rishi's feet angrily. Kusum's emotional bidaai takes place while Kanha and Nakul hugs her crying. Kusum's car leaves and Kanha looks at the thrown rice by Kusum. He swears on the rice to fight for Kusum's happiness till his last breath.
He says Nakul and Sayuri that they mustn't give up till they ensure Kusum's happiness. Rishi is drinking with his friends who asks him that why didn't he invite them for his marriage. They asks if she's so beautifult hat he don't want them to have a look at her. Rishi belittles her saying she isn't even average beautiful but is the right person to do all household chores.
Rishi and Nakul are hearing his words from far and gets angry. Rishi adds that they have so many beautiful girls outside to enjoy but not someone like Kusum to handle house. He starts walking but by mistake Nakul hits the carpet resulting in rishi falling down while Kanha handles Nakul. Rishi looks at them through phone camera nd thinks that they did it deliberately. He decides to get the revenge from Kusum.
Sayuri is speaking with the baby when Kaha comes there upset. They decide to call Kusum. Kusum is sitting worried in bed and decides to swallow it all in as its her own decision. She cuts Sayuri's call seeing Rishi but Rishi urges her to attend it. She attends the call and lies that Rishi slept and she's very happy without them asking anything and cuts the call. Rishi praises her while Kanha and Sayuri understand that Kusum is lying.
Precap : Kanha will suggest Kusum to stay there for a while who's injure. She came for pagphera ritual. Rishi will offer to stay with her too. Sayuri and Kanha will decide to do something not letting Kusum go back to the hell. Rishi will unnecessarily gets close to Rashmi by touching her but Sayuri will pull her away
Click to read