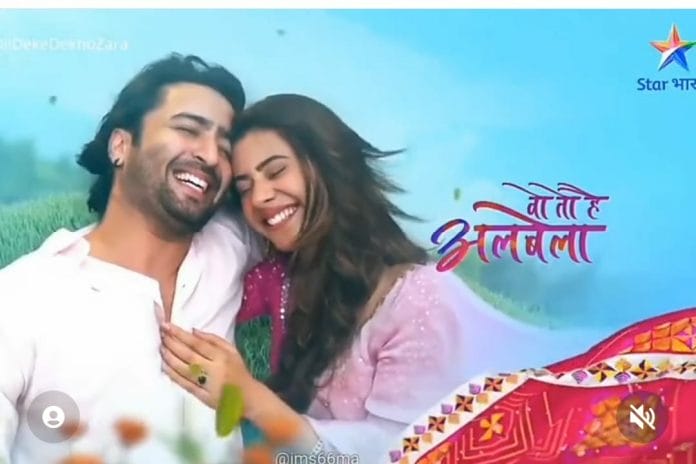 Woh Toh Hai Albela 29th October 2022 Written Update on TellyExpress.com
The episode starts with Sayuri asking Rishi what he's doing. She taunts him and sends him out insulting him. Rashmi got hurt and gets angry at Sayuri. She asks how could she behave this way with the son in law of the house when Sayuri says that she has no idea how bad as a person he is. Rashmi says that he loves Kusum a lot and calls her over controlling. Sayuri asks sorry to Kusum but Kusum asks her not to worry as she did the right thing. Sayuri leaves for check up with Kanha. They both are worried abut what Rishi would do in their absence. Sayuri tells about Rishi planning to extract money from Dhanraj but hides about Rashmi's issue.
Kusum looks at the note sent by her mother in law to get wealth from her home. She wonders how could she do it. Just then Saroj comes there and give as shagun. Kusum asks what's the need for all this and Saroj says she ca,e to house first time after marriage and she can't send her back with bare hands. Kusum gets emotional and hugs her while Saroj comforts her. She sends Kusum to do Rangoli. Sayuri and Kanha come out after check up and are relieved that baby is face. They both other tease each other while Sayuri wishes for Kanha's smile to stay always and protect her family from Rishi.
Rashmi asks Kusum whether she's happy with the marriage while doing Rangoli. Kusum asks why would she ask so and Rashmi says Sayuri spoke so bad about him and she didn't react anything. Rashmi says that she wouldn't have tolerated if she said the same thing to Nakul. Kusum says that they don't know well anout Rishi yet so she didn't argue. Rashmi leaves to get more colors. Yash comes there and Kusum gets ahppy seeing him. They both greet each other and their moment gets disturbed by Rishi.
He taunts them and badmouths Kusum for affair. He even starts hurting Kusum. Yash gets into a fight with Rishi and they both pulled each other by collar. Rishi sensing Dadi entry, himself will fall down and pretends like Yash hurt. Yash tries explaining but Dadi is not ready to listen to him. She lashes out at him for hurting the son in law of the house and throws him out. Yash comes to Kanha and Sayuri and narrates whatever happened shocking them. Sayuri gets a call and gets shocked.
Precap: Rishi asks Kusum to get the jewel box somehow or else will threaten to harm her family. Nakul will ask Kanha and Sayuri what they are doing there as Rishi left with the box. Kanha asks him to relax as they won't let it go just like that. The jeweler checks the jewels and finds it all fake . rishi swears to get revenge.
Click to read