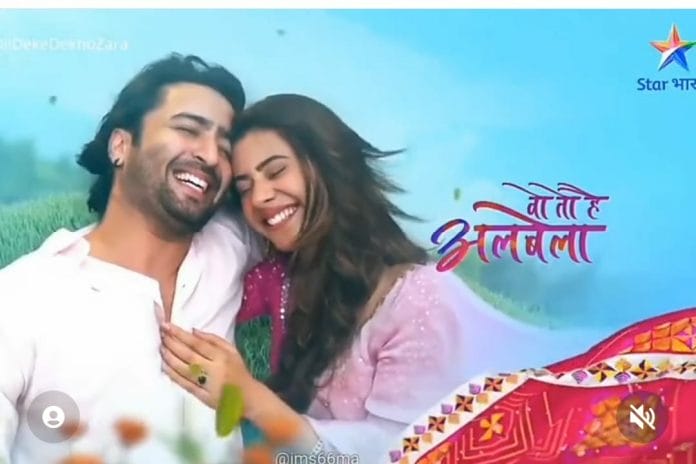 Woh Toh Hai Albela 3rd January 2023 Written Update on TellyExpress.com
The episode starts with Sanchi making phone as an excuse to divert Vikranth's mind. Once he leaves she hides the wallet. Kanha says Yash that he lost his wallet and couldn't find it. He asks servants about it but they have no idea. Yash suggests to ask family members and he agrees. They both were about to go down only to find a new person having food with their family. Kanha wonders who it is when Dadi Mausi comes there and says that it's Tithi their guest who has come to stay there were for few days.
Kanha says OK and is about to leave but Dadi Mausi forces him to greet her as she's their guest. Kanha agrees and goes to dining table. He greets Rithi and is about to go saying that he has work. However Dadi Mausi and Saroj forces him to have food with them before leaving. Kanha sits down because of their force. He chitchats with Rithi when Rashmi gets angry seeing her. She's furious that she don't want any girl to replace Sayuri. She by mistake blurts out her anger in front of Indrani who asks what she's saying. She covers it up saying that she couldn't see anyone taking Sayuri's place in the house.
Sayuri comes to the house with Kuku and recalls all her memories with Kanha and the house. It's revealed that she's actually pretending to suffer memory loss. She is wonders how to continue her act there. Kanha says that he needs to go out for some work. Nakul mocks him that what work he has as he don't come to office at all. He continues mocking him.
Sayuri suggests to leave the wallet outside but Kuku is adamant to meet Kanha. Sayuri looks at the house and memories flood her mind. She wonders how to continue her act in front of everyone. Kanha comes out and gets shocked seeing Sayuri and Kuku. He asks how come they are there. Sayuri gives back his wallet and says that Kuku is worried about him and so they came to return it. Kanha gets down to Kuku's level and thanks her for coming there for him. He asks if it's the only reason for coming there and Sayuri says yes.
Vikranth who followed Sayuri watches them angrily from his car. Sayuri has a hard time controlling her feelings. Rashmi sees Kanha with the same little girl from temple and goes near to find the lady. Sayuri sees Rashmi and gets tensed. Kanha also sees her and hides Sayuri from her eyes. Sayuri also makes use of the opportunity and hides from them. Rashmi asks to whom he was speaking with. Kanha says that someone came there asking for address and has left now. He leaves inside saying that his plan is canceled. Rashmi thinks that she knew well that he's hiding something as she recalls seeing the same girl in temple. She goes inside with Kanha.
Sayuri comes out of her hideout and thinks in her mind that she wishes to hug Kanha and reveal that she's Sayuri. She says she wants to say the truth that it's their own family who wants to separate them. She says her situation doesn't help her. Kanha comes back saying that his plan is cancelled and signals Yash. Nakul notices it and Yash goes to him. He gets elated knowing that Sayuri come there. Kanha asks him to invite Sayuri for the new party as Vikranth recognizes him. Yash agrees and Sayuri comes back home. She gets shocked seeing Vikranth.
Precap : Vikranth will manhandle Sayuri asking her to say where she went along with school. Sayuri will lie that she didn't go anywhere but Vikranth will threaten her with knife. Kanha and Yash will come there in disguise and will get shocked seeing it.
Click to read