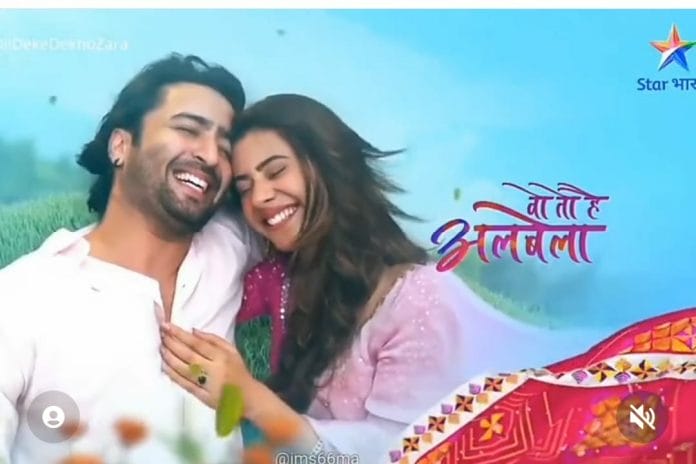 Woh Toh Hai Albela 4th January 2023 Written Update on TellyExpress.com
The episode starts with Sanchi panicking seeing Vikranth cooking. She hurriedly asks him to leave as she will do. Vikranth asks why not as he would like to cook food for his happy family. He feeds it to Kuku who says it's God. Vikranth says that he has something romantic special planned for them. Sayuri gets shocked hearing it and Vikranth hugs her. She pretended in front of him as he leaves. Sayuri feeds Kuku scared.
Saroj finds Riddhi speaking with Dhanraj and Mausi asks what is she thinking. Saroj wonders whether their plan would go well as Kanha will definitely won't look at other girls as he only loves Sayuri. She says that they brought Riddhi home but her conversations with Kanha is one sided. She says that Riddhi might be a nice girl but she can't replace Sayuri as Kanha's wife and the daughter in law of the house. Dadi Mausi says that she knows it's difficult but also reminds her that he believed the same when he got married to Sayuri. She thinks that he will gradually change for good.
Kanha and Yash comes to Vikranth's place with Yash in disguise. Sayuri gets shocked seeing Vikranth's romantic set up. He gets dangerously close to Sayuri and kisses and hugs her. He says that it's been so late already for them to get together and says she finally started loving and trusting him and it's time to start their relationship. He forcefully takes her hand and asks where was she the whole day. She says she went to find school for Kuku. He asks if she went to different schools to find the best one for Kuku. Sayuri says yes and Vikranth asks her to get him the brochures and pamphlets regarding the same. Sayuri gets him the brochures and starts explaining about the different schools she visited. He asks if she didn't go anywhere else and she says no. He forcefully pushes her down saying that she's lying. Sayuri gets scared seeing him.
Kanha and Yash tries to look into the house. Vikranth takes a knife and holds Sayuri's hand he asks if she really didn't visit anywhere else and Sayuri says no. He starts hitting the space around her hand with knife and Sayuri gets terrified. She blurts out that Kuku cried to meet Kanha to return his wallet which is why she went there to return it to him. She says that it's her first time going there and never went there before. She says with a terrified tone as he continued hitting around her hand. She screams loud when he hurts her. Kanha and Yash hear it and gets panicked.
Kanha urges him to ring the door bell while he would go the other side to check on Sayuri. Yash keeps ringing the door bell and Vikranth comes out. Kanha manages to open the window to find Sayuri sitting with a shivering hand and crying. Yash tries to convince Vikranth for the mask party but Vikranth keeps denying for it. A furious Kanha angrily rushes to Vikranth and hits him. He rushes inside and asks Sayuri if he she's fine and asks hoe did she get hurt. Sayuri shouts at him to leave.
Precap : Kanha will pray to God to unite him with Sayuri. Sayuri will also pray God that she wished to reunite with her family and wants to say Kanha everything about why she stayed away from him for a year. Vikranth will say Sayuri that he will not let her go away from him at any cost. Kanha and Yash will wait for Sayuri in the party.
Click to read