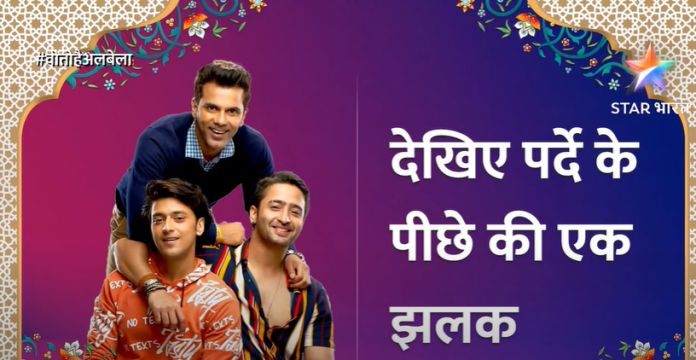 Woh Toh Hai Albela 8th June 2022 Written Update on TellyExpress.com
The episode starts with Saroj praying God for Kanha. Kusum consoles her. Saroj says that today he escaped but her bad luck could bring worse. Doctor ties bandage on his hsnd and Kanha tries avoiding it. He says that his family would be scared seeing the bandage.
Doctor says his health matters the most but Kanha is worried about his work. Everyone says that they will handle work and asks him to rest. Saroj takes evil eyes off him and hugs him getting worried for him. Dhanraj says that this is the real Saroj but don't know what's troubling her on the way. Kanha looks at Sayuri while Nakul jokes.
Saroj calls Anjali and says about Kanha's accident. Anjali asks when it happened and why none said anything to her. Saroj asks how would she know as she was not present at the pooja. Anjali says she came for pooja but left seeing Sayuri with Kanha. Saroj says that she vang do that as Sayuri is a dark phase of Kanha's life and he needs her in his life.
Kanha asks Nakul to call Sayuri and Sayuri comes there. Kanha taunts her and is about to move his arm but Sayuri asks him to be careful. He asks if she took Doctor's role but Sayuri says she can understand Saroj's worry. She asks him to give missed call if he wants something and she'll be there.
She's about to leave and Kanha thanks Herr and also says sorry. Sayuri says it's fine. Anjali says Saroj that she do want to meet Kanha but how can she after Kanha rejected her love last time. Saroj says she needs to meet Kanha if she wants to come back to Kanha's life.
Kanha gives missed call to Sayuri and she comes there. She takes care of Kanha and feeds him food and drink. Saroj brings food for Kanha but leaves seeing him having food from Sayuri and leaves immediately. Anjali is in car and is worried about whether to go in or not. She thinks that she can't handle another heartbreak and looks on.
Nakul shares with Sayuri's family about the accident and they gets worried. Indrani asks about Saroj and Nakul says that the incident has brought Saroj close to Kanha. They gets happy hearing it and doesn't want to spoil it by visiting Kanha. They all leave to thank God for saving Kanha.
Nakul says Rashmi about finding a job for her and says that it's a small job but she can do the work from home and Priyal can help her. Rashmi asks if he's interested in her and Nakul asks her to stop making jokes.
Kanha visits Sayuri's room and tries scaring her but bumps with her and they both fall on bed. Sayuri worries for Kanha and asks what he was doing . He says that he came to check whether she had food and she says she did. He asks about medicine and she says she forgot. Kanha scolds her for not taking care of herself and they both quarrel.
Kanha ties friendship band to Sayuri while Sayuri ties holy thread for his protection. Anjali witness them close and Kanha notices her. Saroj and Kusum watches on as Anjali is at Kanha's room. Anjali asks him about his health and scolds him for not informing her. She asks Sayuri too and asks her to rest as she'll take care of Kanha.
Sayuri agrees and is about to leave but Kanha says that he may need her help and asks her to syayy. Anjali grew more jealous. Saroj says Kusum that if Anjali comes out of the room first then it's good for them.
Precap : Anjali will confess his love to Kanha but Kanha will ask her to leave. Anjali will get obsessed with Kanha.
Click to read