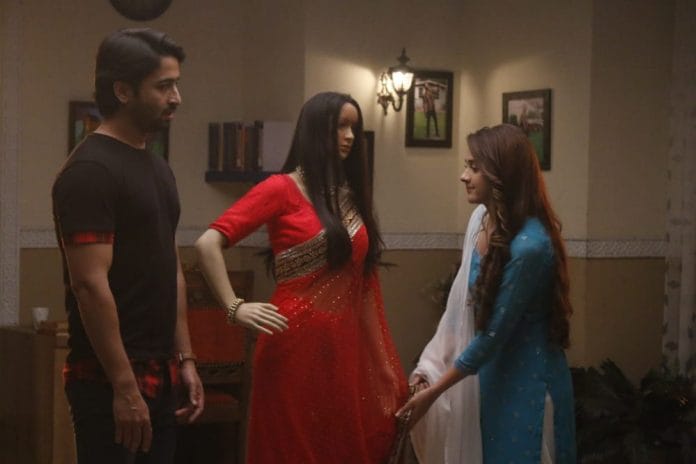 Woh To Hai Albelaa Upcoming Story, Latest Gossip , Future Story, Latest News and Upcoming Twist on tellyexpress.com
The Tuesday episode of Rajan Shahi's "Woh Toh Hai Albelaa" started with Nakul convincing Kanha to get a saree for Sayuri. He tells him that he must gift her one especially for the puja. Kanha is not at all convinced and tells Nakul that Sayuri must have kept a lot of new sarees and she can wear one of those, but Nakul replies that gifting her one would make a difference as he is her husband. He tells him that he should have gotten married before him so that Kanha could have learnt something seeing him. Kanha leaves from there. Nakul asks Dhanraj and Tej why did they ask him to convince Kanha, to which they tell him that these little things will take away the hesitation between Sayuri and Kanha.
Later, Sayuri is surprised to see a mannequin wearing a red saree in her room. Kanha then tells her that he bought it as a gift for her. Sayuri tells him she loves it. He then tells her that if she doesn't want to sit for the puja with him that's ok but she should at least come there wearing this saree. Kanha leaves the room but slips on the stairs. Saroj gets scared and asks him if he is fine. Dhanraj asks Saroj to stop showing so much hatred towards Kanha when she is clearly concerned about him. He tells her that Kanha has changed himself for the family and they must appreciate that. But Saroj tells him that Kanha took Cheeru from her. Dhanraj had nothing to say after this.
The next day, Saroj finds the kitchen slab divided. Dhanraj tells her that he will keep doing these things till she lets Sayuri live peacefully. He tells her that it's because of her that Sayuri had to go out for a cup of tea. He even tells her that if she won't let Sayuri use the kitchen, then he will also have his food from the outside. Once he leaves, Saroj destroys Sayuri's part of the slab.
At the office, Kanha is sitting for the puja. Sayuri hasn't come yet and he asks the priest to start the puja. Saroj is heard saying that Sayuri is neither bothered about the elders of the family nor her husband. Just then Kanha notices Sayuri coming and is happy. She takes everyone's blessings and sits for the puja. She tells him that if Saroj doesn't like it then she will leave. Kanha asks her to sit quietly. Anjali also comes there and gets jealous seeing them together. She leaves and is heard saying that she had planned so much on how to get closer to Kanha and is wondering why Sayuri is doing all this.
After the puja, Kanha and Sayuri go to put tilak on the stock. Her saree got stuck and the cartons were going to fall on her but Kanha saved her. He got injured and Saroj blamed Sayuri for this. Seeing Sayuri worried Nakul tells her that Kanha will be fine and that he takes care of the people he loves.
In the upcoming episode, we will see that Sayuri is taking care of Kanha as he has injured his hand. She then gives a friendship band to Kanha and starts their relationship as friends. Meanwhile, Saroj instigates Anjali and asks her to keep getting closer to Kanha because then only they will get what they want. To know what happens next, keep watching the show.
Produced under Director's Kut Productions, "Woh Toh Hai Albelaa" features Shaheer Sheikh, Hiba Nawab, Kinshuk Vaidya, Sachin Tyagi, Pallavi Pradhan, Sucheta Khanna, Mehul Buch, Nayan Bhatt, Somesh Agarwal, Suruchi Adarkar, Rachi Sharma and Vaishnavi Ganatra. It airs on Star Bharat, Monday to Friday at 9 p.m.