Woh To Hai Albelaa Upcoming Story, Latest Gossip , Future Story, Latest News and Upcoming Twist on tellyexpress.com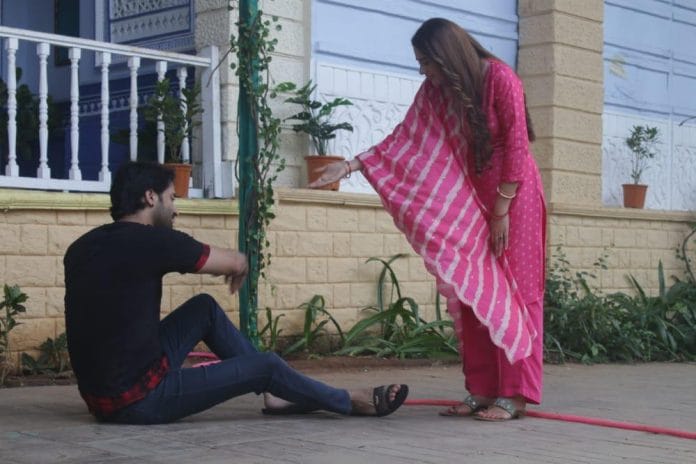 The Friday episode of Rajan Shahi's "Woh Toh Hai Albelaa" started with Rashmi talking to Sayuri over a video call and asking her if she is fine. Sayuri tells her she is feeling much better. Just then we see Saroj destroying Sayuri's kitchen. Kusum tries to stop her but in vain. Sayuri comes there and calls Saroj. She smirks at her and leaves after throwing a steel saucer. Sayuri is shocked to see her kitchen destroyed. A little later Kanha comes there and is stunned to see Sayuri collecting the things in the kitchen. He asks her if Saroj did it. Sayuri doesn't reply. Kanha then finds the saucer with his name written on it. He takes it with him and bangs it in front of Saroj. Saroj was not at all bothered and asks him to leave the handle as well.
Saroj then calls Anjali and asks her if she got the file. She tells him Kanha doesn't leave his wife for a second and it has become very difficult for her to ask about anything from him. Saroj is instigating Anjali so that she makes Sayuri leave the house. At the same time, Indrani learns what Saroj did to Sayuri's kitchen and tells Bhanumati that she will talk to her. But Bhanumati stops her and tells her that Sayuri needs to fight her own battles. Later, at the dining table, Nakul tells Saroj that she should stop going behind Sayuri and let everyone live peacefully. Saroj gets offended by this and tells him that his elder brother broke a saucer and he should break a glass now. She herself breaks the glass which leaves Tej and Dhanraj shocked.
Later, Sayuri is looking for Kanha and finds him sleeping in the car. She asks him to take rest, else he will also faint. They both laugh at this. Kanha comes out of the car and they go towards the main door when Kanha accidentally falls and they burst out laughing. Anjali notices this from the outside and calls Kanha. She tells him that she met with an accident and asks him to come to help her. Anjali hugs Kanha on seeing him and tells him that she was very scared. He then gets a call from Sayuri asking how Anjali is. But Kanha asks her if she is ok and asks her to take care of herself till she is back. Hearing their conversation, Anjali feels jealous and vows to get Kanha back.
In the upcoming episode, we will see that Sayuri is waiting for Kanha and is worried that he is not back yet. Meanwhile, Anjali gets a cake and champagne at her home and surprises Kanha. Saroj tells Kusum that Kanha is with Anjali and if things between them get sorted, soon Anjali will take Sayuri's place. To know what happens next, keep watching the show.
Produced under Director's Kut Productions, "Woh Toh Hai Albelaa" features Shaheer Sheikh, Hiba Nawab, Kinshuk Vaidya, Sachin Tyagi, Pallavi Pradhan, Sucheta Khanna, Mehul Buch, Nayan Bhatt, Somesh Agarwal, Suruchi Adarkar, Rachi Sharma and Vaishnavi Ganatra. It airs on Star Bharat, Monday to Friday at 9 p.m.