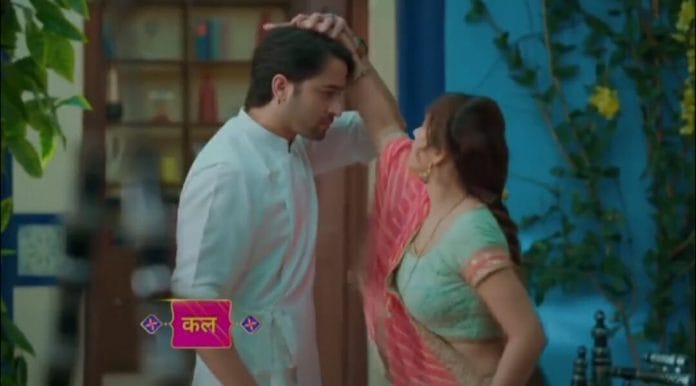 Woh To Hai Albelaa Upcoming Story, Latest Gossip , Future Story, Latest News and Upcoming Twist on tellyexpress.com
Star Bharat's popular show Woh Toh hai Albela starring Shaheer Sheikh and Hiba Nawab currently focuses on Rashmi's evilness and Sayuri's act to protect her baby.
Previously we have seen that, Yash tried to take Kanha to stop the wedding but Kanha left disheartened. Sayuri convinced Vikranth to postpone the wedding in order to go through all the rituals related to the wedding. After giving it a thought, Vikranth agreed to postpone the wedding for a the next seven days. Sayuri sighed in relief while Yash who watched them hiding confirmed that it's Sayuri.
Later Sayuri and Kuku bumped with Rashmi and they both were equally shocked. Sayuri acted like she couldn't identify Rashmi and behaved like a complete different person. Rashmi was not ready to believe it while Sayuri swore herself to expose Rashmi on right time. Vikranth threatened Pandit to find a solution when he told that there are no possibilities for happy marriage for him.
Saroj was worried about Kanha and Nakul's breaking bond and prayed God to set everything right. Rashmi in order to test Sayuri said to Pandit to find a bride for her brother in law. She provoked Sayuri saying that it's him who agreed for another wedding.
Sayuri acted normal in front of Rashmi to fool her. Sayuri was devastated so is Kanha and both were in pain. Yash lied to Kusum and left to Chaudhary mansion to meet Kanha who's devastated to pick his call.
In the future episodes we will witness, Kanha will make Sayuri swear on him that she's Sanchi and not Sayuri. Sayuri will struggle to answer. She will be about to confess about their child when Vikranth will come there shocking them.
Will Sayuri's baby gets saved from Vikranth? Will Kanha and Sayuri gets reunited? Will Rashmi gets exposed?
All these questions will be answered in the upcoming episodes.
Stay tuned for more space.