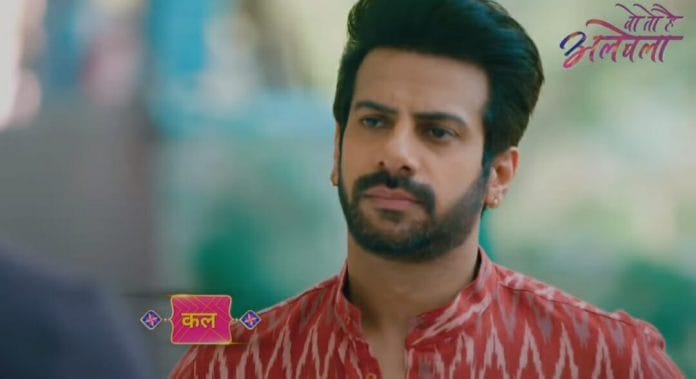 Woh To Hai Albelaa Upcoming Story, Latest Gossip , Future Story, Latest News and Upcoming Twist on tellyexpress.com
Star Bharat's popular show Woh Toh hai Albela starring Shaheer Sheikh and Hiba Nawab currently focuses on Rashmi's evilness and Sanchi's truth .
Previously we have seen that, Rashmi checked the party checklist by bribing the organizer. However she couldn't get any useful information as Kanha discarded his and chief guest's name from the list. Sayuri got shocked seeing Kanha and asked what is he doing there. He fell down on her mistake and the curtains fell on them.
Sayuri got up immediately and started scolding him for entering the house. She lashed out at him saying that they were about to get married again and asked him to come and check himself and threw him out of the house. Vikranth saw it all through CCTV camera. Rashmi misbehaved with Yash angering Kusum.
Vikranth got happy when Sayuri told that she actually wanted to get married to him. A happy Vikranth let's Sayuri see her baby. She was actually putting up an act to bring baby at the wedding. Sayuri noted that when Vikranth showed her the baby then she heard train and azaan sound and noted it in her diary.
Kanha and Yash will came out and was shocked to find Vikranth. Rashmi looked at them through window. Vikranth said that it's not only Kanha who can come without any notice to his house.
He claimed that he wanted to end the difference between them which is why he's here. He invited Kanha for his wedding with Sayuri and left taunting him indirectly. Rashmi followed Vikranth.
In the future episodes we will witness, Vikranth will ask Sayuri if she's ready for the wedding and Sayuri will say yes. He will say that next day is their marriage. Kanha will decide to not let Sayuri marry Vikranth as she's his wife. Rashmi will come to Sayuri's House and will see Vikranth with Sayuri and gets shocked.
Will Sayuri's baby gets saved from Vikranth? Will Kanha and Sayuri gets reunited? Will Rashmi gets exposed?
All these questions will be answered in the upcoming episodes.
Stay tuned for more space.