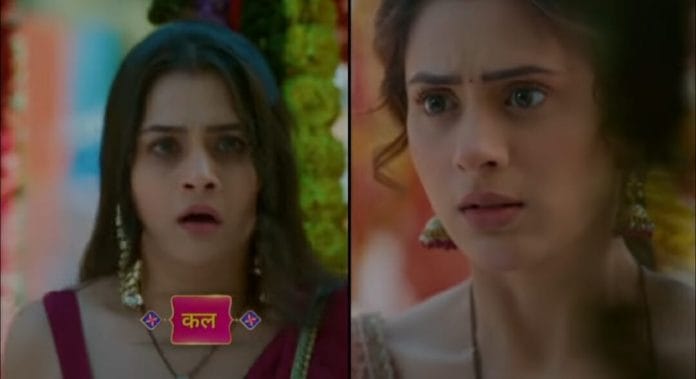 Woh To Hai Albelaa Upcoming Story, Latest Gossip , Future Story, Latest News and Upcoming Twist on tellyexpress.com

Star Bharat's popular show Woh Toh hai Albela starring Shaheer Sheikh and Hiba Nawab currently focuses on Rashmi's evilness and Sayuri's act to protect her baby.
Previously we have seen that, Vikranth forcefully took Sayuri to the mandap. Sayuri recalled Vikranth making her swear on her baby when she once tried to meet with Kanha and felt helpless. Kanha unable to witness it left the place but Yash supported him. He shared his pain with Yash. Vikranth and Sayuri found Kuku missing and started searching her.
Rashmi left the house to come to temple with Nakul making excuse in order to check on Sayuri. Sayuri lashed out at Kanha when he again thought ill about Vikranth. Kuku was found and Vikranth proceeded with the wedding. Kanha took his leave unable to witness the wedding. He found Nakul and Rashmi approaching the temple and diverted them by picking up an argument with them.
Rashmi enjoyed Nakul lashing out at Kanha. Yash tried to take Kanha to stop the wedding but Kanha left disheartened. Sayuri convinced Vikranth to postpone the wedding in order to go through all the rituals related to the wedding. After giving it a thought, Vikranth agreed to postpone the wedding for a the next seven days.
Sayuri sighed in relief while Yash who watched them hiding confirmed that it's Sayuri. Later Sayuri and Kuku bumped with Rashmi and they both were equally shocked.
In the future episodes we will witness, Rashmi will say to Pandit to fix a date to find a new girl for her brother in law. She will provoke Sayuri saying that it's him who agreed for another wedding. Sayuri will be devastated so is Kanha thinking that she married Vikranth.
Will Sayuri's baby gets saved from Vikranth? Will Kanha and Sayuri gets reunited? Will Rashmi gets exposed?
All these questions will be answered in the upcoming episodes.
Stay tuned for more space.