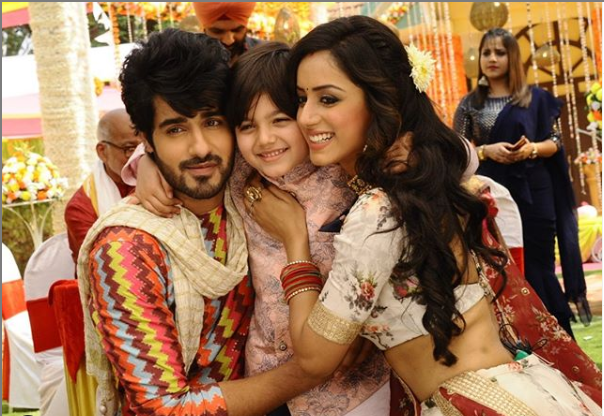 Episode begins with is stuck in the nightclub among the dancers and she is not getting what to do now? Suddenly two random guys come around her and starts to drag her with them. Preesha tries to free herself from the clutches of these people. She calls Rudraksh for help as well as Rudraksh is not coming there and he is just sitting in a bit for place and drinking continuously. Those two men call the manager of the pub and give him money and says to him we are taking away this girl with us. different Preesha to a room and she did try to free herself from them but couldn't do that. She is trying her best to come out from that situation and is fighting back with all she can but it is just not enough and people are trying to force himself on her.
At the end moment, Rudraksh reached the place and he beats them so much for disrespecting and forcing a girl against her will. Preesha also gets up from the bed with the help of Rudraksha and she also slaps those men for trying to misbehave with her and molest her. Rudraksha and Preesha finally comes out from there and they coming back to the house when Preesha system with you are you to judge me and my character and why should I give you any explanation regarding my innocence when I know I am not wrong.
Saransh trying to reach out to Rudraksh Preesha as it is night already and they are not at home. He pickup the phone of the large and tries to call his mother and Balraj noticed it and he punished him for no reason. At the same time, Niketan comes there to meet Balraj and his family and stops him from behaving so rudely with kid. Rudraksh and Preesha comes back home and both of them noticed the red mark on the cheeks of Saransh.
Rudraksh ries to talk to his father regarding his behaviour with Saransh but Balraj again tries to dominate the way used to do in the childhood days of Rudraksh, not only that this triggered the bad memories and trauma which went through all over back again. He comes back to room and asks Saransh if he is ok? He says if I can get punished then you two will never argue with each other right? Rudraksha and Preesha both decided to keep their differences aside and be together for the sake of Saransh.
Saransh is happy to see they are shaking hands and he goes out of the room and comes back with two tub full of ice cream. He says now you to become friends so it is mandatory to have a party. Rudraksh says I am singer and eating ice cream is not good for my voice I am not going to have it.
Saransh one day it will not cause so much damage to you and moreover my mother can empty an entire tub of ice cream at a go so you have to defeat her to prove that you can be the best. Rudraksha is not ready water challenge when that you are already scared of my mother. this user angry and see to get up from the tree and gives it is Preesha and says let the word begin.
Precap – Niketan dance about the marriage of rudraksh and decided to confronts hin directly.