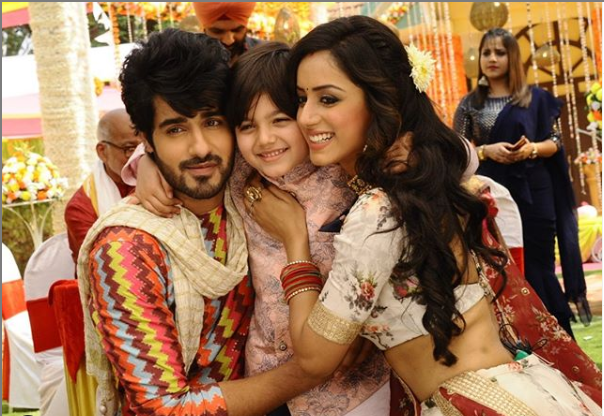 Episode begins with Preesha is giving a letter to Rudraksh saying this is a fan made of yours which I read. According to this, he is having cancer and his last wish is to sing a song with you and that is why I said those things in the interview.
Rudraksh goes through the lateral and he agrees to sing a song with that kid and processes you already agreed for it then I should have said that you will donate 100% of your earnings to that kid and Rudraksh gives her a weird look. I will not do any wrong to you and that is the difference between you and me. Preesha says don't stress your voice so much because from now on I am going to speak for you. You are blessed that you can fulfill someone's last wish not everyone can do it. she left from there and Rudra prays from his brother Rajiv that please give me an opportunity and fulfill my last wish so that I can strangle and then can speak for her so that she doesn't get to speak ever in her life.
Saransh is sleeping in his room when suddenly he gets up and finds Preesha missing in the room. He tries to look here and there but nobody is present and suddenly he gets scared. He thinks his mother must be at the kitchen so he decided to visit there to meet her. Preesha on the other side noticed that Balraj behaves so rudely with his wife Sharda and moreover he is speaking lies about being at office whereas he was with Natasha which she herself noticed.
Challenge is coming to meet his mother when he notices a shadow and thinks of it as pressure. That lady shadow pushed Saransh and then runs from that place before he can recognize her. Preesha comes there to see Saransh in such a state and asks what happened. Rudraksh and the family members also came and they are trying to make Saransh feel comfortable but he is crying with fear and pain. He said there was an aunty in this room, she pushed me and runs away from this place.
Krishna gets worried for the swollen area of Saransh and she says the injury is in the head and I cannot take risk, let's take my son to the hospital. Rudraksh ask her to relax and he takes Saransh in his arms and took him to the room. He took care of Saransh with so much love and affection that Saransh wants to sleep with Rudraksha and not pressure for the night. Rudraksha also feel that he is getting changed because a person like him who doesn't love kids so much is getting emotionally attached to Saransh because he is the one who reminds him about his elder brother Rajiv.
GPS is worried about the money waa fodn society needs and Yuvraj was determined to humiliate GPS in front of all the people . he says I will definitely take revenge for the humiliation and insert I have to go to of this good for nothing family.
Precap – Someone locks Saransh inside a room in the house of Rudraksh. Fresher again noticed Balraj and Natasha together.