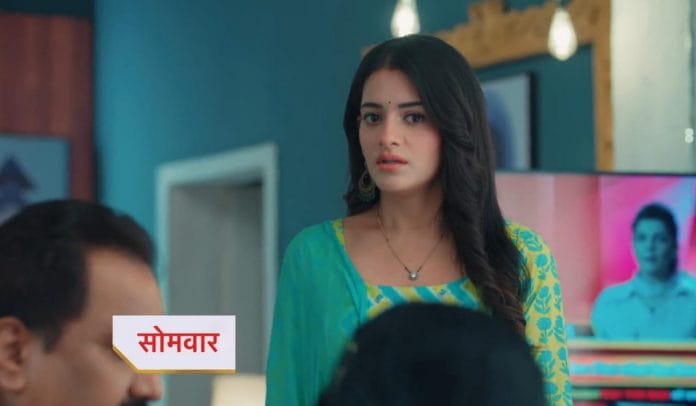 Yeh Hai Chahatein 19th November 2023 Written Update on TellyExpress.com
Episode begins with Arjun waits for Kaashvi in her cabin. Kaashvi and Dadi's photo frame falls down. Arjun takes it. Kaashvi is about to enter her cabin but police officer takes her from there. She tells peon to inform Arjun that she can't meet him now. Peon enters the cabin and tells Arjun that Kaashvi left for her mission. Arjun keeps the photo frame on the table and leaves from there.
Kaashvi tells police that they will get ready like goons and she will send them to Birju. Police wears goons outfit and their head gets covered with black cloth. Kaashvi gives key to police with handcuffs. Higher officer praises Kaashvi for her brilliant plan. Kaashvi tells him to follow her by maintaining distance. She tells police officer to stay with backup team.
Arjun thinks that Kaashvi must be downstairs and goes to see her. He sees Kaashvi's anklets. He recognizes the anklets and says that he gifted these anklets to Kaashvi. He recalls that how he gifted the anklets to Kaashvi. He decides to see Kaashvi's face. But Kaashvi leaves from there. Arjun asks police inspector about lady officer name. Police inspector tells him that they can't reveal the name until the mission gets completed. Arjun tells him that he will accompany him. But Police inspector denies him and leaves from there. Arjun gets in the auto and tells driver to follow police car.
Birju asks Karun that if the latter is scared. Kaashvi calls Birju. Birju tells Kaashvi to come inside the factory with his 5 men and disconnects the call. Kaashvi tells his team to not do anything until she gets Karun. Kaashvi's higher officer tells police that Karun's safety is their priority. Arjun comes there and understands that Karun is inside the factory. He sees woman outfit and wears it.
Kaashvi enters the factory with her team. Birju tells Kaashvi that she brought his men. She tells him that she did this for Karun. She says that Karun is not her son. He refuses to believe her. She asks him to give Karun to her. He tells her to give his men to him. She says that she want to see Karun is fine or not. Goon brings Karun there on Birju's behest. Karun asks Kaashvi that if she came to save him. He calls her as aunty. Birju gets shocked hearing this. He tells Kaashvi that he want to see his men. Karun asks Kaashvi to save him. Birju removes the cloth and realises that Kaashvi tricked him. He gets angry at Kaashvi. Kaashvi tells him that she will end the game which he started.
Episode ends.
Precap – Birju tells Kaashvi that he will punish Karun for the mistake she committed. Karun tells Arjun that Kaashvi saved him but Birju caught her. He asks Arjun to save Kaashvi. Arjun tells him that he will save Kaashvi.
Click to read