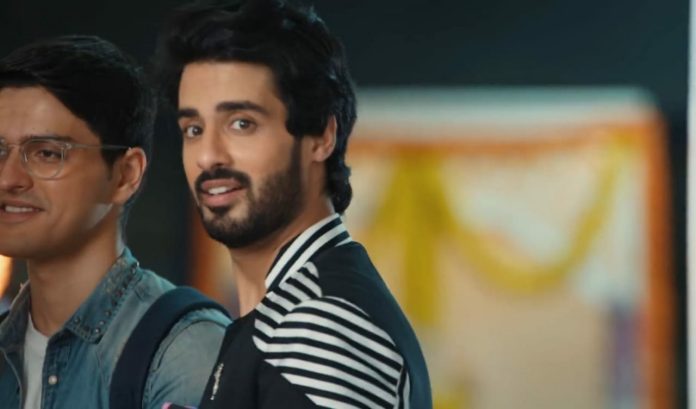 Yeh Hai Chahatein Spoilers, Upcoming Story, Latest Gossip , Future Story, Latest News and Upcoming Twist on tellyexpress.com
Abrar Qazi and Sargun Kaur Luthra starrer Yeh Hai Chahatein is one of the top Star Plus show because of the interesting storyline. The twists and turns of the show have glued us to the screens. Now, Preesha arrives at KD college to attend Pihu's orientation. Rudraksh also comes there to attend Raj's orientation so it will be intriguing to watch that what going to happen in the future episodes.
In the current track, Raj informs Rudraksh that he got admission in KD college. Rudraksh congratulates him. Raj says that it's Rudraksh who brought an orphan like him to his house after seeing him in the singing competition so all the credit goes to him.
Rudraksh's cousin comes there and greets Rudraksh. Rudraksh informs him that Raj got admission in the latter's college and he goes downstairs. Rudraksh's cousin asks Raj to act like he don't know him in the college. Saaransh gets up and goes upstairs when Rudraksh came to join them for breakfast.
Ruhi recalls that how Saaransh confronted Rudraksh when Rudraksh returned from the hospital. Saaransh blamed Rudraksh for Preesha's decision. She notices that Rudraksh is upset and cheered him up. Sharda learns that and says that Ruhi is like Preesha. Next day, Kanchan informs Thakkurs that Preesha left for Delhi with Pihu. Rudraksh and Raj reaches KD college. Preesha and Pihu comes there.
In the upcoming episode, Armaan will learn that Rudraksh is in KD college to attend orientation. He will call Preesha and ask her about orientation. Preesha will tell him that it went well and this college is perfect for Pihu. Pihu will tell Armaan that she takes care of Preesha better.
Later, Preesha to get stuck in the washroom. Rudraksh will tell her that he will help her and introduce himself to her. Preesha loses her consciousness and Rudraksh opens the door.
Why Preesha is in unconscious state? Will Preesha see Rudraksh?
All these questions will be answered in the upcoming episodes.
To know what will happen next in your favorite show Yeh Hai Chahatein, stay tuned to this space.