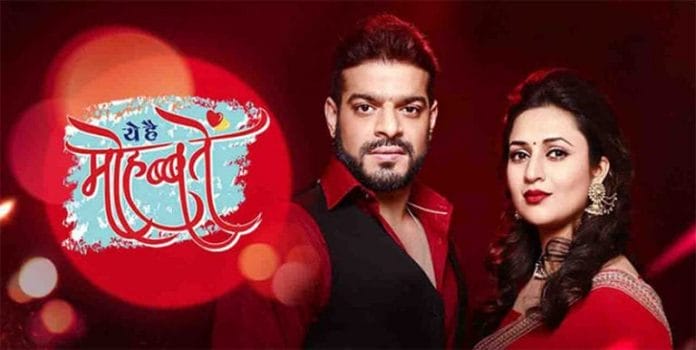 The Episode stars with Karan saying to Sudha that he knows that Ruhi loves children but there is no fault of hers if she can't become mother and he can't leave her for this reason. He asks her if he would have divorced her in case he had got to know about this after marriage. Sudha says that nothing like this happened and had they known about this before the marriage they would have refused to celebrate the wedding but the point is that Bhalla family was trying to hide this fact from them. Karan says that they were trying to protect Ruhi and had no intention to hide anything from them. Just then the doorbell rings: Ishita and Shagun come there. Sudha asks them why have they come and says that she doesn't want to talk.
On the other hand Ruhi scolds her family for letting Ishita and Shagun go instead of waiting for Karan to talk with Sudha. Raman asks her not to worry as Ishita and Shagun will convince Sudha. Ruhi says that convincing Sudha won't be easy and this marriage is impossible since she can't give their family any heir.
Ruhi hears Pihu crying and rushes to her. When asked about the reason of her crying, Pihu says that she was practicing to cry on her wedding. Pihu asks Ruhi why she is crying and Ruhi lies to her saying that she was practicing for her bidaai too. Pihu then says that she wants to meet Karan and also about her Ishi-Maa'swhereabout. Everybody is happy with pihu's comeback and Dadi also consoles Ruhi.
After a while Mihika asks Amma why she is lighting up a diya so late in the night at which Amma replies that she is feeling like something bad is going to happen. Mihika tries to reassure her that nothing like that shall happen. Just then an idea comes in her mind as she remembers about Prrisha, who is just like Ishita. Amma also remembers that she is a gynecologist so she may help them to solve Ruhi's problem. They call Prrisha who is seen helping a woman to deliver a baby and clicking the latter's picture which she later pinned on a board full of newly born's photos.
Prrisha thinks that it's strange how so many people don't like the crying noise but a mother gets so happy hearing her newborn crying. She says that becoming a mother is not only a blessing but also a test and it's God himself who makes the mother-child pair. According to her every woman has the right to become a mother and every child has the right to have a mother. She feels lucky to be a gynecologist. Just then she receives Mihika's call who asks for her help and explains her what is the matter. Prrisha thinks that history is repeating itself and decides to help Ruhi.
Meanwhile Ishita, Shagun and Karan's tentative of convincing Sudha seems going in vain since she isn't ready to listen to them and instead starts getting agitated so Karan asks Ishita and Shagun to leave telling them that he'll talk to Sudha and then call them or Ruhi later.
In the evening everybody is waiting for Karan's decision when he comes there. Ruhi asks Karan what Sudha said and is shocked to see password in his hands. She asks him where he is going. Karan apologizes to the Bhalla family on her mother's behalf as the marriage can't happen since his mother is ill and he has to take her to London but promises Ruhi that once he'll come back he'll marry her. He asks Ruhi if she'll wait for him and she nods in a yes. They hug. Karan promises Ishita and Raman that he'll come back and marry Ruhi only. Raman tells him that he did the right thing thinking about her mother first and they trust him.
Karan goes in the parking area where Sudha asks him whether he told the Bhalla's that he won't marry Ruhi. Karan just asks her to sit in the car and they leave.
The Bhalla family is sure that Karan will come back and says Ruhi to not worry since the marriage just got postponed, not cancelled.
In the car, Sudha tells Karan that he won't let him marry Ruhi. Karan argues with her.
In the Bhalla house Ruhi sees Karan's passport there and all rush to go to the airport to give it to Karan. Ruhi calls Karan to inform him but Sudha doesn't let him pick up the call. Karan tries to snatch the phone from his mother's hands and is driving at the same. The call gets picked up while they are arguing and Ruhi is confused hearing the voices. Just then Karan and Sudha meets with an accident.
Raman, who is driving towards the airport, sees their car crashed in the road and tells it to Ruhi who is shocked.
Episode ends
Precap: Sudha apologized to Ruhi for hurting her and agrees to get Karan and Ruhi married as soon as possible. After that Ruhi and Karan are seen exchanging garlands while everybody claps.