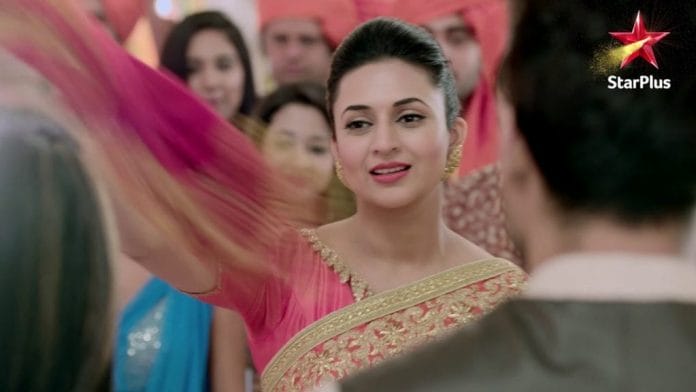 The episode starts with Raman entering with an upset face after meeting Natasha. Everyone asks the reason for his behavior. Raman says that Natasha will try to misbehave with him and he can't do it anymore. He says about her message to the family.
Sunil asks Natasha about what she has messaged him. He gets worried for her and says that they want only his face and Natasha is confident enough that he'll come back. Natasha says that she wants to confirm if he's really Shardul or Raman. She says that he'll come for sure no matter who he is.
Anjali asks how he could leave all of a sudden. They find something suspicious in this situation. The first doubts Natasha but brushes it off. Karan decides to call his mother and asks for the doctor's number and calls her. Ishita is convincing Raman to message back as Natasha as she will be waiting for it. She finally convinces him and he asks what he should message to her. Ishita says that he should ask her to meet in a fancy restaurant as he has booked a table for them. She asks him to call her for a dinner date. In that way he could find her motives by talking with her. Raman praises her for her plan and asks how she's so clever being a Madrasan. Ishita counters back. She asks Simmy to book a table for both of them as well as Raman and Natasha with a distance.
They all are waiting impatiently and decides to wait for some time. Anjali comes there and asks to leave as it's already late. Arjit comes there and enquires about Raman to them. Yug takes the file from Arjit and keeps it with a similar file and says that they will get his signatures on it and asks him to leave. Arjit gets worried and makes excuses and takes the file back but the other one which is similar to it and leaves.
Arjit comes out and calls Natasha and informs her about Raman's kids planning something. She informs him about her date with Shardul and will find out the truth. He gets the call and finds that it's the wrong file and goes back to the cabin. Karan's mother is on call with him and informs about Dr. Mishra and Arjit overhears it.
Raman comes for his date and gives flowers to Natasha. Natasha blushes and Raman feels caught up. Ishita is worried about Raman. Natasha tries to get cozy with Raman in Sunil's absence and Raman gets feared. Raman convinces Natasha about his memory loss and his connections with Bhallas. He explains about his plan to trap Raman's property using his identity and Natasha starts believing him. He convinces her to get ready to the restaurant. He messages Ishita once she leaves. They both leave for the restaurant but Natasha fakes ankle injury. Natasha cancels the plan using injury and gets Raman with her home. Ishita and Simmy get worried.
Precap: Natasha blackmails Bhalla's with her photos with Raman