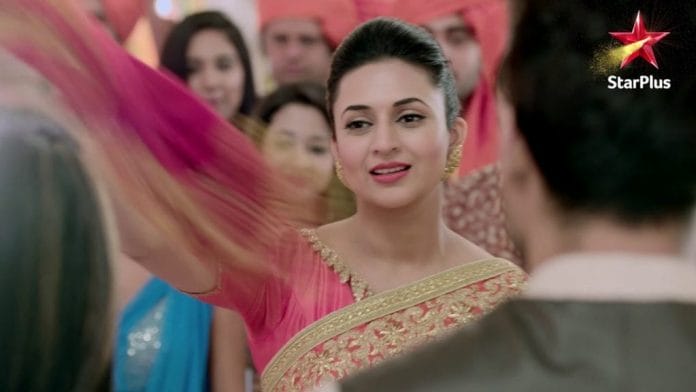 The episode starts with Natasha forcing Raman to pick her in his arms and take her home. He helps her and she acts being in so much pain. He tries calling Ishita to inform her but Natasha keeps him busy. She asks him to get the medicine from her bedroom and sends him in. in the meantime Ishita calls Raman but Natasha ignores it. She says that now her husband will only be hers. Raman comes back with the medicine and keeps it in front of her. He asks her to rest and starts leaving but Natasha stops him with excuses. She asks him to apply balm and asks him to stay with her. Raman says that his family is waiting for him but she stops him and asks him to at least apply balm and leave. He starts applying and Ishita gets worried.
Sunil hits Karan and Yug's car and they start fighting with each other. He starts slapping him and Ruhi and Anjali arrive there. They stop him and asks what happened. Karan says them the details and they scold Sunil too. They drag him inside. In the meantime, Natasha gets as cozy as possible with Raman.
Ishita and Simmy see Raman car still in parking and wonders about it. They check their house but Mihika says that Raman hasn't returned yet. Ishita understands everything and leaves. Karan and the gang drag Sunil into the house only to find Raman applying balm to Natasha. Raman tries explaining but Natasha intervenes and explains that Raman and she were spending together. Ruhi gets furious and rubbishes it off. She shows them the picture of Raman carrying her and he gets shocked. She also says about their canceled date plan and the gang gets shocked.
Arjit meets his daughter in the hospital and promises her to punish Raman for her condition. Raman asks his kids to listen to him and let him explain at home. However, Natasha provokes it by blackmailing to upload the picture in social media and Raman get shocked. Ruhi tries snatching the mobile from Natasha but Natasha sends it to Arjit. Arjit sees the picture and gets very happy. He calls Natasha and Natasha attends the call and he hears everything.
Raman still asks his kids to believe him and says that they will discuss it later but Ishita enters asking Raman about why he's here. Arjit hears it and gets sure that today Raman and Ishita are going to be separated. She takes everyone home. Arjit speaks with Natasha and expresses his happiness. Ishita says about his plan to kids. She asks him to go and enquire about her leg. Raman gets furious at Natasha but Simmy convinces that at least Natasha now believes that he's Shardul. Ishita says that their plan gets succeeded and asks them to leave the matter. Yug sees Ishita sitting tensed on the couch.
Precap: Natasha messages Raman for dinner and Ishita urges him to accept it. Yug takes the knife from Dr. Mishra's body and people blame Yug for killing Mishra.