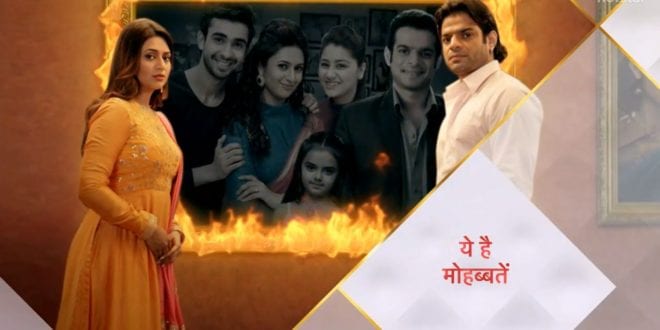 The upcoming episode of Star Plus' popular show Yeh Hai Mohabbatein is up for some major drama. We bring you spoilers of upcoming episode to be aired on 23th April.
Earlier we have seen that Everyone is shocked to see Ishita behaving erratically after her return from London.
Shaina (Ishita's looklike will make a entry, and will create problem for the Bhallas. Shina will be non other than Shail's plot against Bhallas. Here Ruhi will land in a big problem when Police will come to arrest her in bomb case.
In upcoming episode we will see that An assailant threatens Simmi with a gun while the Bhallas try to figure out Why Ishita is behaving strangely. Later, Karan sees Rohan drunk in parking garage.
As seen in the episodes Raman gets worried after police comes and raid the club. Raman said to police that her wife is inside save her. Goons said he is drunken throw him away. Raman rushes to home and asks Bhalla is Ishita at home? Bhalla says no. Raman tells them that Ishita is in danger and they need to save her. Later each one gets shocked when Shaina who is staying at their house as Ishita came downstairs and says she was sleeping while waiting for him. Raman asked her to tell the truth why she went to Pub. Ishita told him that he is drunken let's have a talk in morning.
In the upcoming episode will see Mr. Bhalla sees Ishita's car and shouts to her. He chases her but he gets hit by her car. Later he will scold Ishita at home.
Later, Raman grows even more suspicious when Ishita leaves abruptly. Meanwhile, Rohan has plans for Aaliya and Ruhi.
To know more keep watching Yeh Hai Mohabbatein on Star Plus.