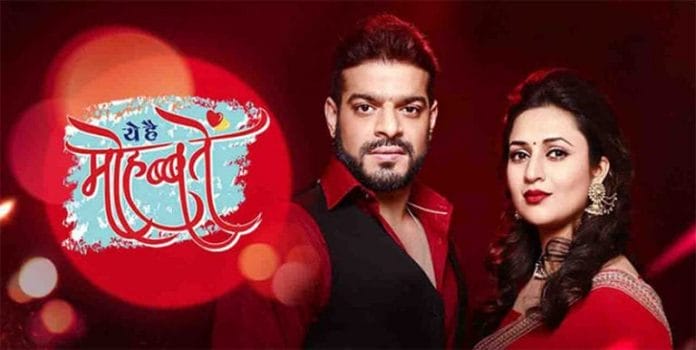 The episode starts with Mihika apologizing for interrupting Ishita and Raman's conversation as she comes to call Ishita.
Shagun sees Mihika laughing and asks her the reason so Mihika tells her that she overheard Raman saying that he is imagining Ishita as a Punjabi bride. Mihika says she has an idea and Shagun asks her if she is also thinking the same thing she is thinking. They plan something. Shagun says that it feels great to do plan a surprise for Ishita who always do something for them.
Mihika is surprised to see so many delicious dishes on the table. Amma says to let the one for whom all this has been made come. Mihika asks her if she invited someone for lunch and Amma says yes so Mihika asks her why she did so as there is Ruhi'smehendi today. Amma says she knows that and made everything for Ruhi only as everything happened so soon that she didn't get time to do anything special for her and that's why she will feed her with all that food. She gives Mihika some stuff and asks her to make Ruhi get ready with that.
Later Mihika gets Ruhi ready. Ruhi is surprised seeing that they gave her a south indian look and asks the reason for it but Mihika says it's a surprise.
Mihika takes Ruhi to Amma who has arranged a pooja for her. Amma makes her sit and does her aarti and then feeds her with the food she cooked. Amma tells Ruhi that she fell in love with her the moment itself when she brought "Best mother trophy" for Ishita. She says that she had understood that only she can complete Ishita's life and that she had never seen Ishita as happy as she got after meeting Ruhi. They get emotional. Amma asks her to never cry as she wants to see her happy always.
Later, Ruhi is in her room. Mihika comes with food and tells her she wants to feed her since after marriage she may never get the chance. She feeds her and get emotional recalling her childhood moments. They hug. Simmi comes there and is happy to see so much love and claims her hug from Ruhi who kisses her on the cheek. Simmi gifts Ruhi a necklace. Mihika asks her if that is her necklace and Simmi says yes but she wants to gift it to Ruhi because it's only thanks to Ruhi and Pihu that she has been able to overcome her pain for Ananya's absence. Ruhi cries and hugs her.
The next morning Ruhi wonders why the mehendi's color hasn't got deep as people say that the deeper mehendi's color is the deeper Karan's love will be. She decides to call Karan who is seen shaving. He picks up the call and asks Ruhi what happened since it is her 15th call. He asks her whether she wants to marry him on the phone. Ruhi asks him if he loves her and if he will keep loving her or will not be loyal after marriage. Karan asks her why he would change and why she is thinking like that. Ruhi says that she is insecure because she can't give him a kid. Karan gets angry and says to say it clearly if she doesn't want to marry him or stop talking like that. He says that he can't leave her and he loves her. Ruhi also says that she can't think of leaving him even in her dreams. Karan says that their marriage is going to happen so just enjoy the moment which comes once in a life only.
Everybody is busy with the arrangements of the wedding. Mihika and Mani see Raman with bags with some clothes inside it. Mihika says that she doesn't want Raman to ruin the surprise they have planned.
Raman goes into his and Ishita's room and shows Ishita a bag. Ishita asks him what is it but before Raman can say anything Mani and Mihika comes inside. They apologize for not knocking but say that there is a very important work and they take Raman away. Ishita wonders what they are doing.
In the night Ishita welcomes Sudha and Karan. She does Karan's aarti and asks them to come inside.
Karan sits on mandap and the pandit starts the rituals. The pandit asks to bring the bride on the mandap as well. Ruhi comes and everybody smiles seeing her. Ishita and Raman make her sit on mandap. Ruhi and Karan exchange garlands. Raman asks Ruhi to blush a bit sometimes making everybody laugh. Ishita talks to someone on the phone and asks if the arrangements are done. She looks at Shagun who nods. The kanyadanrasam is done. Ishita tells Karan that they are handling their life to him and he promises them t take care of her. Raman says that he will beat him otherwise. Sudha says that she will be the one to slap Karan if he bothers Ruhi. Sudha receives a call and ishita asks her to attend the call outside if it's important, they will wait.
Sudha goes out but nobody speaks from the other side. She hears a baby crying and follows the voice. She finds a baby there with nobody around. She picks her up in her arms.
On the other hand Raman ties ruhiandKaran's knot. Sudha comes with the baby and Karan asks who the baby is. Sudha tells him what happened and asks Mihika to get some milk for the baby but Ishita and Shagun say that they don't know who the parents of the baby are so they should not bring her inside like this.
Prisha comes and says that the baby is hers. Sudha asks her if that's true. Prisha says that she belongs from her NGO which takes care of orphan kids. Sudha refuses to let the baby go in the NGO. Raman says that her own parents didn't take care of her so how can she love someone else's baby as she herself said she won't be able to love someone else's blood. Ruhi asks Sudha if they can adopt the baby and she agrees.
It is revealed to be all a plan and Ishita and Raman congratulate with Karan and Ruhi wishing them an happy married life. Ruhi hugs her parents.
Raman says that when Ishita disappeared she was gone to do the adoption finalized. Ishita thanks Prisha for helping them out as she knew the NGO. Prisha says that the idea was hers only so no need of thank.
The wedding rituals are continued. Ruhi and Karan takes the seven vows. He fills her maang and then the pandit asks them to take blessing from elders.
Mihika hugs Prisha and tells her that they planned a surprise for Ishita and Raman. Prisha is excited.
Ruhi and Karan takes blessings from everybody and hugs them.
At the end everybody takes a selfie together.