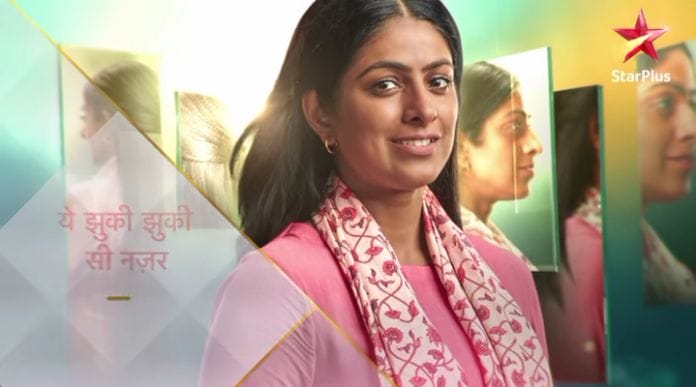 Yeh Jhuki Jhuki Si Nazar 11th May 2022 Written Update on TellyExpress.com
Episode starts with Madhu seeing the time and scolds Dia for ruining her deal. Whereas, Dia comes there and lies that she has found the keys. Armaan gets elated and ask her to bring the property papers of Madhu, while the latter gets irked realising that she can't able to taunt Dia anymore. Dia goes inside her room to get the papers, whereas Bhavna hears their conversation and gets shocked. She questions herself that how can it be possible, when the keys is with her. She gets inside her room and searches for the locker keys. She takes it out from the hidden place and gets confused thinking about Dia's statement.
Here, Armaan asks Dia about the papers to which she gives it to him and worries thinking that what if her plan will get failed? She proclaims that the papers are false and gets relieved when Armaan doesn't read it. He goes to give it to Madhu, while Dia goes inside Bhavna's room and confronts her.
Dia takes the keys from Bhavna and says that ployed against her to get the keys. She states that she knew Bhavna is hiding the keys and so lied in front of her, knowing the she will check the keys inside her room. She tells Bhavna that she knows the latter have problem with her but insists her to try to adjust along with one another.
Elsewhere, Dia scolds Bhavna for her ploy and warns to expose her if she tries to do it again. She says that she doesn't wanted to ruin the peace of the house and that is why haven't created any scene in front of the family members. Whereas, Bhavna gets furious at Dia and determines to take her revenge.
Madhu scolds Dia for giving wrong papers, while the latter comes there with the right ones and give it to Armaan. Meanwhile, Dia starts cooking breakfast, when she gets a call from her senior Jaggi. He gives her some work and ask to complete it within the deadline. She assures him, while he taunts her to not waste her work from home criteria.
Ahead, Dia gets worried and tries to complete her cooking as soon as possible, but burnt the food in process. Armaan sees her crying and consoles her. He decides to help her in cooking and also gets romantic with her, while she adores his efforts and they both completes the work. She notify him about her office work and goes to complete it.
Bhavna hears Dia's conversation with Jaggi and makes an evil ploy. She gets inside Dia's room and removes the charger from her laptop. She hides it somewhere and smirks stating that Dia won't be able to complete her work on time and will get fired. She remembers how Pawan praises Dia in front of her and decides to snatch her job.
Further, Dia panics seeing the time and tries hard to find her charger. She somehow gets it and starts doing her work. Whereas, Madhu comes back to the house and holds her legs saying that it is paining. Armaan and Krish helps her, while she taunts Bhavna to do some work. Dia comes there and goes to bring food for Madhu, whereas Bhavna smirks thinking that Dia won't be able to complete her work.
Precap:- Armaan tries to help Dia while he gets in call with Kajal. She says that destiny always brings them together, while he tries to ignore her. She requests him not to be rude to her as it hurts her, whereas he stays silent. She tells that she misses him and still loves him, while Dia gets shocked hearing it.
Click to read