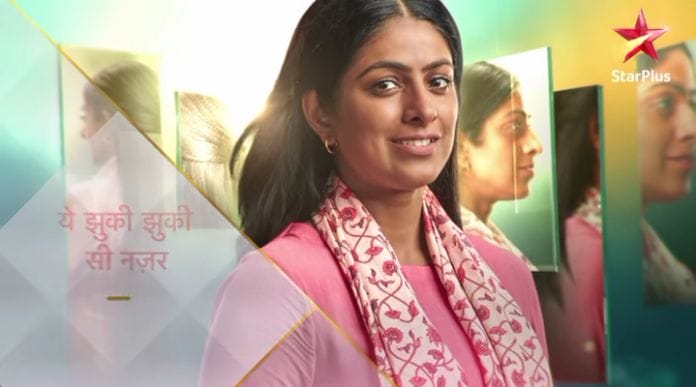 Yeh Jhuki Jhuki Si Nazar 17th May 2022 Written Update on TellyExpress.com
Episode starts with Anju scolding Brij for his carelessness towards his health and questions that why he haven't notified them about his state? He ask Anju not to worry about him and assures that he is fine. She reminds him about Doctor's words, while he says that he will get fit in sometime. He consoles Anju and ask not to panic about him, whereas she prohibits him from going to the work for few days. He denies her request stating that he can't take leaves, as he doesn't want to give any reasons to his seniors for throwing him out of the job.
Here, Brij tells about his responsibilities and reminds that after marrying his daughters and completing their studies, he isn't have left with much savings. He says that he can't afford to loose his job as there is only him working for their family. Dia hears their conversation and feels sad.
Anju cries and ask why he haven't shared his tension with her? To which he ask her not to take unnecessary tension and seeks a promise from her that she won't tell about it to any of their childrens. He proclaims that he don't want to upset their kids and says that they are happy in their life and he doesn't want to ruin it.
Elsewhere, Dia enters inside their room with a bowl of fruits and gives it to her father. He jokes with her to lighten the mood and ask if she is making him feel weak? She smiles towards him, but from inside she feels guilty for not having a job to help her parents. She decides to get the new job as soon as possible, to fulfill her duty as a daughter.
Bhavna instigates Madhu against Dia and says that she haven't returned back. Madhu scolds Dia for staying out till evening and for not preparing anything for them to eat. She says that Dia is unlucky for them as since she has arrived something or the other thing is happening. Bhavna provokes Madhu and enjoys the drama.
Ahead, Dia enters inside the house and gets confronted by Bhavna and Madhu. They rebukes her for coming late and starts bombarding with questions. She tries to tell them about her father, but they doesn't let her complete and points finger on her parent's morals. Madhu accuses Dia's parents for not giving good upbringing to her, while she gets teary eyes.
Dia tries to explain Madhu and Bhavna, while they takes it in a wrong way and makes scolds Dia. Whereas, the latter gets frustrated and reveals about her father. She rushes inside her room and cries, while Armaan gets shocked seeing her state and questions her about it. She tells that she tries a lot but can't able to keep his family happy, he consoles her and determines to always help her. She also share that she wants to help her parents, while he supports her.
Further, Dia talks with her friend about the character certificate while she advice her to get apology from Jaggi and Kajal. Bhavna hears her conversation and advice her to meet Kajal and apologise to her in order to help her parents. Dia agrees and meets Kajal, whereas the latter taunts her. Dia apologises to Kajal, but latter ask her to bend down and join her hands in front, whereas Bhavna and Dia hets shocked.
Precap:- Bhavna acts to be concerned about Dia and Armaan's relationship. She accuses Kajal to be behind Armaan and Dia, whereas the latter gets furious and ask why they went to meet Kajal? He scolds Dia for her action, while latter keeps crying. He confronts Bhavna for her idea and rebukes her for taking Dia to meet Kajal.
Click to read