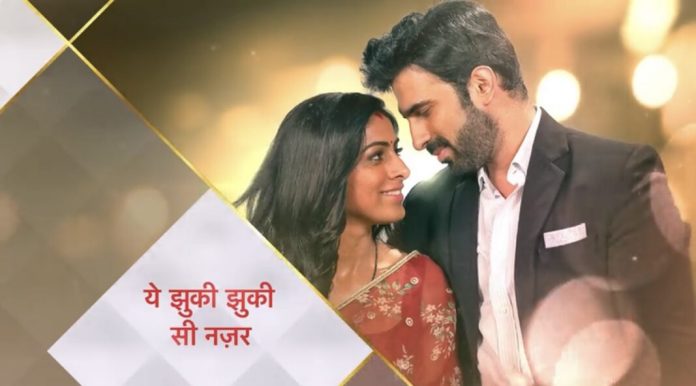 Yeh Jhuki Jhuki Si Nazar 22nd June 2022 Written Update on TellyExpress.com
Episode starts with Dia searching for Armaan and then goes towards the room where he was locked with Saloni. Whereas, Bhavna and Madhu also follows her and waits for the drama to begin. Dia goes inside the room and gets shocked seeing Armaan and Saloni in a close proximity. She keeps staring at Armaan sleeping on Saloni's lap, while Bhavna smirks.
Madhu along with Bhavna and Sudha also enters the room and acts to get shocked. Whereas, immediately Armaan and Saloni wakes up realising the situation. Armaan tells how they got locked inside the room, while Saloni supports him.
Here, Madhu tries to provoke Dia against Armaan and intentionally repeats her words that Armaan slept along with Saloni alone inside the same room. She tries to make Dia jealous, so that she get suspicious about Armaan and Saloni's relationship. Meanwhile, Armaan tries to justify his act in front of Dia and tells that the door wasn't opening.
Saloni assures Dia that Armaan is telling the truth and ask Bhavna to tell how she also got locked. Dia stops them and states that she trusts Armaan. She tells that she will make the door get repaired orelse Sudha will face problems. She then goes inside her room along with Armaan.
Elsewhere, Armaan again tries to apologise to Dia and gives his justification, but she stops him and says that she have full trust in him. She states that she knows him well enough and interrupts him from giving any clarification. She shows her love towards him, while he gets overwhelmed.
Madhu gets irked as their plan to instigate Dia gets unsuccessful, while Sudha smiles stating that she just wanted to know the feelings of Saloni towards Armaan and now she got the confirmation that the latter loves him. She declares that only Saloni can fulfill her dream of giving baby to their house.
Ahead, Bhavna remembers Dia and Brij's conversation about finding a groom for her. She sees Krish's photo and blushes. Whereas, he calls her and tells about her success. He shows his gratitude towards her for motivating him and sends a return gift.
Sudha confronts all the members of her family and declares to give the household responsibilities to Saloni. Dia and Armaan gets shocked and the latter questions Sudha about it. She replies that it is her decision and prohibits Armaan from interfering. She declares that only Saloni can take the responsibility of the house and ask Dia to give all her jewelleries and the key of the house and locker to Saloni.
Further, Dia feels hurt and Armaan consoles her. She then plans to make a cake and surprise Sudha on her birthday, while Madhu hears their conversation secretly. The latter along with Bhavna tells Saloni to do something special for Sudha's birthday, while the latter plans for something grand. She also keeps thinking about Armaan and her moments. Whereas, Krish visits to Palki's house.
Precap:- Saloni plans a surprise birthday celebration for Sudha. The latter was about to cut the cake, when Saloni stops her and ask to make a wish. Sudha tells that she have one wish, but will tell her later, as only she can fulfill it for her. Meanwhile, Dia and Armana looks at one another.
Later, Sudha tells Saloni that her wish is to get Saloni married to Armaan. She declares that she wants to have a grandchild and only Saloni can do it for her. She requests Saloni to fulfill her wish, while the latter looks on..
Click to read