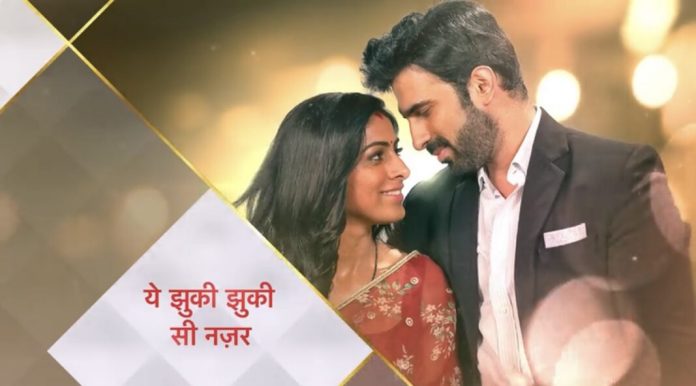 Yeh Jhuki Jhuki Si Nazar 23rd June 2022 Written Update on TellyExpress.com
Episode starts with Palki preparing food inside the kitchen, while Krish keeps staring at her. She notices his presence and ask him to come there. He goes near her and offers his help, while she laughs asking if he knows cooking? To which he brags that he can do all the chores. Palki ask him to make a dough for Chapatis, whereas he starts kneading the flours. He makes it all messy and struggles to form a dough, while Palki laughs seeing his state.
At that time he gets a call, while she helps him to receive it. He ends his conversation but couldn't able to cut the call. He talks to Palki and tries to flirt with her, while Madhu hears his conversation through the phone.
Here, Madhu identifies Palki's voice too and gets shocked. She decides to tell Sudha about it. Whereas, the latter prays in front of God's idol and decides to tell her wish to Saloni on her birthday. She also goes inside Dia and Armaan's room, while they both hides the surprise they were making for Sudha.
Madhu goes inside Sudha's room and notify her about Palki and Krish's relationship. She warns Sudha to be careful and tells that if Palki also comes inside their house, then both the sisters will rule the house and will create problems for them. Sudha gets stunned hearing about the news and goes towards Krish. She confronts him and ask about his relationship with Palki.
Elsewhere, Krish gets tensed and lies to Sudha that he doesn't have any feelings for Palki. He states that there isn't anything in between them, while Sudha tells that Madhu told her about their conversation. He questions Madhu and ask her to tell what she has listened? The latter replies that she guessed that there was something going on in between him and Palki.
Krish gets furious and says that Madhu is just cooking up her stories, while Sudha becomes furious at the latter. She scolds Madhu and ask her to stay away from her childrens. Whereas, others also comes there. Sudha insults Madhu and aslo taunts Dia indirectly stating that she won't let Krish to do the same mistake as Armaan.
Ahead, Palki becomes cheerful after meeting Krish and then goes to look after Brij. He confronts her about her changed behaviour and ask if she have any feelings for Krish. She tries to avoid him, but he ask her to tell the truth. She blushes and tells that she don't know what is there in between them, but she feels nice when he is near her. Whereas, Brij advice her to be careful.
Dia takes Krish inside her room and ask him to tell the truth. He locks her room and confesses his feelings for Palki. He tells that he doesn't wanted to create drama and that is why lied to Sudha. Dia motivates him and ask to stand for his love. Whereas, Krish meets Palki again and proposes her. He confesses his feelings for Palki and she accepts it.
Further, Madhu cries and feels bad about the way Sudha treated her. She complains about it to Bhavna, while Sudha comes there and apologises to her. She somehow gets successful in convincing Madhu. Whereas, Saloni surprises Sudha with a birthday celebration, while the latter cuts Saloni's cake only avoiding Armaan and Dia's one. She ignores Armaan and Dia and pays attention towards Saloni, while Armaan consoles Dia and they both dances together.
Precap:- Armaan holds Sudha and assures her that he and Krish will go to Jammu along with Saloni. Whereas, Dia stops them and declares that Sudha have problem with her and Palki. She proclaims that they will leave the house and bends down to take Sudha's blessings, but the latter avoids them. Dia holds Palki and starts walking out of the house, while Armaan begs Sudha to stop them.
Click to read