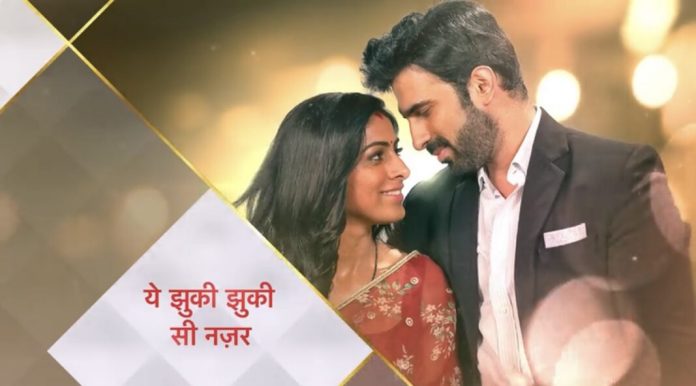 Yeh Jhuki Jhuki Si Nazar 24th June 2022 Written Update on TellyExpress.com
Episode starts with Sudha meeting Saloni and ask her if she will fulfill one of her important wish? To which the latter assures Sudha and ask about the wish. Sudha smiles looking at Saloni and tells that she have seen how Armaan and Saloni are close to one another and wishes to see them together. She tells that she wants them to stay together, while Saloni gets shocked and reminds Sudha that Armaan is already married to Dia and she can't break their relationship. Sudha tries to make Saloni calm and tells that she wishes to see her as her daughter-in-law and confronts about her feelings for Armaan.
Here, Sudha tells that she only have faith in Saloni, in order to get a grandchild. She says that Dia won't be able to fulfill her wish and only Saloni is the right person to carry Armaan's child. She shows her trust upon Saloni, but the latter gets nervous and says that she won't be able to do it.
Saloni gets up from Sudha's side and tries to make her understand that she won't be able to break Dia and Armaan's relationship. She proclaims that they are made for each other, while Sudha denies and tells that everyone have some weak point in their relationship and determines to use it against Armaan and Dia. Whereas, Saloni imagines her inner desire in front of her, who insists her to accept Sudha's deal.
Ahead, Palki gets nervous to meet Krish, while her father assures her. Bhavna keeps an eye on Krish and gets inside his cupboard as soon as he leaves the room. She checks his laptop and gets his pictures with Palki. He takes out the photographs of all the pictures and gives it to Madhu, while the latter gets elated and appreciates Bhavna.
Sudha thinks about sending Armaan along with Saloni to her place, so that he will get separated from Dia. Whereas, Armaan tries to convince Sudha to forgive Dia and him, but the latter stays firm on his decision. Armaan requests Sudha several times, while the latter finally says that she will look after it.
Further, Bhavna and Madhu decides to show the proofs against Palki and Krish's relationship to Sudha. They shows him the photographs while the latter gets shocked. Madhu and Bhavna instigates her against Palki and Dia, while the latter denies to get her married to Krish. Whereas, Dia and Armaan prays to the God for their well-being.
Precap:- Armaan tries to console Sudha and agrees to her decision, stating that he and Krish will go to Jammu along with Saloni. Whereas, Dia stops them and says that the problem is with them. She bends down to take Sudha's blessings, but the latter avoids them..Dia proclaims to leave the house along with Palki and starts going out of there. Whereas, Armaan insists Sudha to stop them but the latter stays firm on her decision.
Click to read