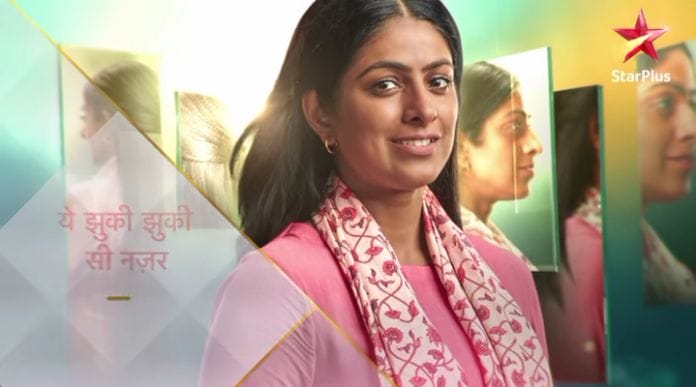 Yeh Jhuki Jhuki Si Nazar 27th May 2022 Written Update on TellyExpress.com
Episode starts with Madhu blaming Mathurs and their neighbours for her stolen purse. She declares that she does not want to stay there anymore and demands to go back to her house. Whereas, Brij tries to calm Madhu, but she stays firm on her decision. Armaan and Krish helps Madhu to walk and takes her away, while Armaan sees the envelope he has brought and comes back towards Dia. He ask her to go along with his family and went inside the Mathurs house to keep the envelope. Meanwhile, Anju was talking to the doctor regarding Brij's health. She gets worried about her husband and questions the doctor about it.
Here, Anju ask if Brij will get fine? To which the doctor ask her to meet him as soon as possible. Armaan hears her conversation and gets shocked learning about Brij's cancer. He becomes devastated, while Anju sees him and gets shocked. She confronts him and ask not to tell about it to anyone else, specially Dia.
Armaan cries while Anju also breaksdown. She takes his hand and keeps it on her head. She ask him to promise that he will not notify Dia about the truth, as it will break her. He couldn't able to agrees to her and says that he haven't hidden anything from Dia. Anju tries to make him understand and tells how attach Dia is with Brij.
Elsewhere, Anju shows her concern towards Dia while Armaan agrees to hide it from her. He gives promise to Anju and aslo takes a promise from her that she won't hide anything from him regarding Brij's matter. She cries and then agrees to his deal. He insists to take her to the hospital the next day regarding consultation of Brij's illness.
Anju says that how she can trouble Armaan as he is her son-in-law, to which the latter says that he is her son and he have full right to look after them. She gets emotional hearing his statement and shows her gratitude towards him. She hugs h being sentimental, while he comforts her. He says that she is really strong for bearing everything alone.
Ahead, Dia gives a diet plan to Brij and ask Anju and him to follow it religiously. Brij laughs seeing Dia's care and agrees to her. Whereas, Armaan feels bad for hiding the truth from Dia. He sits aside and searches for cancer treatment. Whereas, Dia feels weird seeing his behaviour and confronts him. He lies to her and successfully hides the truth.
Armaan internally apologises to Dia for hiding the truth, while the latter makes him sleep with her. Later, he wakes up seeing Anju's call and goes aside to talk to her. Whereas, the latter questions if Dia gets suspicious about him or not? To which he assures that he have handled the situation. Ahead, Dia pampers Madhu and the latter gives money to Dia being happy with her.
Further, Armaan takes Anju to the doctor and they consult regarding Brij's illness. The doctor tells that they can't able to save Brij and declares that he have very less time with him. Anju and Armaan gets devastated, while the latter consoles her. They goes away from there, while Pawan sees them in the hospital and notify Bhavna about it. The latter asks Dia regarding it, whil the latter gets confused. At that time Armaan returns back and Dia confronts him about it, but he lies on her face.
Precap:- Bhavna gets worried and assures Dia that nothing will happen to Brij. Dia gets confused and ask what Bhavna is trying to say? The latter replies that Pawan talked to the doctor and he told about that Brij is suffering from cancer. Armaan tries to stop Bhavna, but she tells that Brij is in his last stage of blood cancer. Dia gets shocked hearing the truth.
Click to read