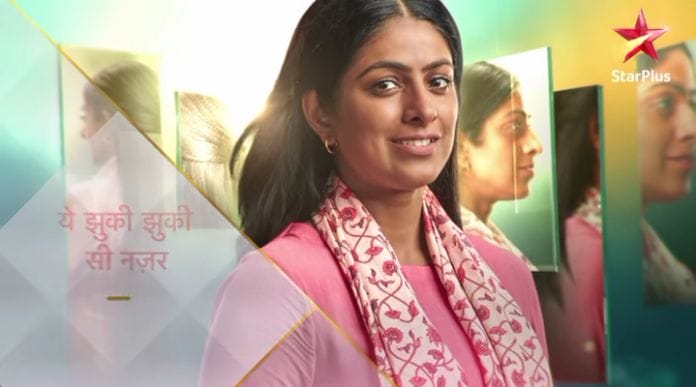 Yeh Jhuki Jhuki Si Nazar 28th May 2022 Written Update on TellyExpress.com
Episode starts with Bhavna notifying Dia about Armaan and Anju's visit to the hospital. Dia gets confused and says that Armaan didn't told her about it. Bhavna and Madhu states that Dia should confront Armaan and ask him about it. At that time Armaan comes there and acts to be normal. Dia questions him about his meeting, to which he lies that he was busy with the client. She gets shocked seeing him lying on her face and ask that what he was doing inside the hospital along with Anju? He gets stunned and tries to handle the situation. He says that the matter is not serious, but she becomes worried.
Here, Dia confronts Armaan and ask that what was there in Brij's medical report. Armaan tries to calm her down, but she couldn't able to control her reaction and keeps questioning him. He hides the truth from her, while she insists him to tell her about it. Whereas, Madhu and Bhavna looks at them being confused.
Krish also comes downstairs hearing Dia's voice and looks at Armaan and her. Whereas, Bhavna receives a message from Pawan and she gets shocked finding about Brij's blood cancer. She looks at Dia and feels sorry for her. She suddenly hugs Dia and assures that everything will be fine. Whereas, the latter gets shocked and ask Bhavna about her concern.
Elsewhere, Bhavna says that she got a message from Pawan, as he met the doctor of Dia's father. Armaan tries to stop Bhavna from telling the truth, but Dia stops him. Armaan keeps a hand on Bhavna's shoulder asking her to stop, but she doesn't listen to him. She tells Dia that Brij is suffering from blood cancer and is in last stage of it.
Dia gets devastated hearing about her father's illness and starts panicking. She shouts that the reports are fake and denies to accept the truth. Armaan tries to console her but she rushes out of the house. Armaan follows her and cries seeing her situation. She also remembers her moments with Brij and gets teary eyes. She runs towards her house, while a bike was about to hit her, when Armaan saves her.
Ahead, Armaan gets concerned for Dia and scolds her for behaving like this, whereas she cries and questions that why he hided the truth from her. He notify her about Anju's promise, while she hugs him being devastated. He consoles her that everything will get fine. Whereas, Brij gets worried for the money and tries to manage with his salary.
Palki shows the electricity bill to Brij, while he gets shocked seeing the huge amount. Palki gets confused by his behaviour and says about the excess use of electronics due to summer. He suggest to save electricity and advice Palki to keeps the equipments closed when not using it. At that time Anju comes there and stops Brij from going to work without having breakfast, while he gets a warning from his boss.
Further, Brij couldn't able to resist Anju and sits to have breakfast. She gets teary eyes looking at him, while Armaan and Dia also comes there and cries seeing Brij happily enjoying with Palki. They plans to perform on different songs at Jhanvi's baby ceremony. Dia shares her agony with Armaan, while he consoles that Brij will get fine. He shows his support towards Dia, while she cries in his embrace.
Precap:- Dia searches for Brij's blood report and finds it inside Anju's cupboard. She immediately takes the photos of it and then keeps it there. She gets emotional seeing that her father is suffering from blood cancer and then meets Anju and Palki. Her phone slips from her hand and the pictures gets open. Brij picks it up and sees the report, while Dia gets shocked.
Click to read