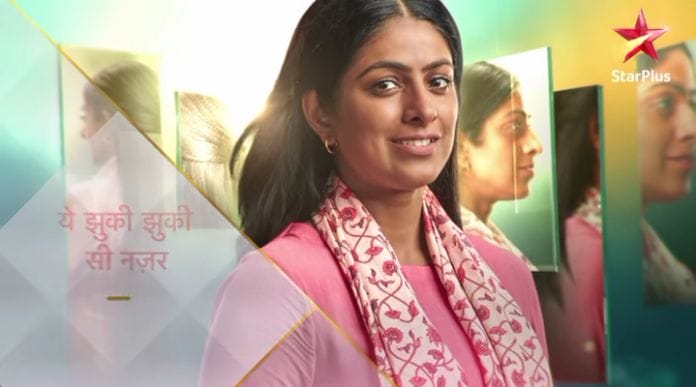 Yeh Jhuki Jhuki Si Nazar 30th May 2022 Written Update on TellyExpress.com
Episode starts with Dia getting emotional after seeing her father and remembers about his blood cancer. Armaan consoles her and takes her out of Mathurs house. They sits on the entrace and she pours her sadness out in front of him. She says that she really can't bear if anything happens to her father, while Armaan assures her that they will do something to save him. She hugs him, while at that time Brij comes there and gets surprised seeing them. He notices tears in their eyes and confronts them, while they lies that it is sweat due to the hot weather.
Here, Brij laughs seeing them and says that even Anju is affected by the weather and sweating like them. Dia and Armaan looks at each other being sentimental. Whereas, Brij takes them inside and Anju along with Palki greets them.
Brij was about to leave for the work but Dia stops him. She remembers how his boss treats him badly and prohibits him from going to the work. He tells that he have important errands to do, but she stops him stating that he should take a long break. At that time he gets a call from his boss, who scolds him for being late and ask to come as soon as possible.
Elsewhere, Brij gets worried and assures to come there. He thinks that if he will take leave, then he will lose his job and so was about to go, but again Dia and Anju stops him seeing his state. Anju scolds him for not taking proper care of himself, while Dia makes him sit and ask him to leave his school job.
Dia suggests that Brij can start tutoring from home as many kids needs a teacher like him. She says by doing so he can work from home, while every gets impressed by her idea. Palki says that he can teach even far away students via zoom calls. Whereas, Brij gets in doubt. Dia pretends to be angry with her Father, while he immediately agrees to her decision.
Ahead, Dia gets close to her father and gets emotional remembering her happy moments with him. Whereas, Sudha arrives at the station and waits for Armaan to pick her up. She comes along with Armaan's childhood friend Saloni and gets impressed by the girl.
Bhavna calls Armaan and reminds him that he have to pick Sudha. Whereas, he finds out that he is getting late. He ask Dia to come to pick Sudha, but she denies stating that she wants to be near her father. Armaan goes from there aline and calls Sudha to apologise to her, but she stops him from coming and states that she will come on her own. Whereas, Dia gets inside Madhu's room and clicks pictures of her father's report. She also sees Brij's diary and finds out about his wishes. She determines to fulfill it.
Further, Sudha reaches home and gets angry at Armaan. Madhu instigates her against Dia and hides about Brij's matter. She also prohibits Bhavana from telling about Brij's cancer to Sudha, while the latter agrees. Armaan apologises to Sudha and gets her forgiveness, whereas he meets Saloni and remembers their childhood memories.
Precap:- Dia hurridly clicks pictures of Brij's cancer report. She gets devastated after seeing it but still holds her emotions. Meanwhile, Palki hugs Dia and her phone slips from her hand. The photo of Brij's report gets open and the later bends down to pick it up, while Dia gets worried.
Click to read: