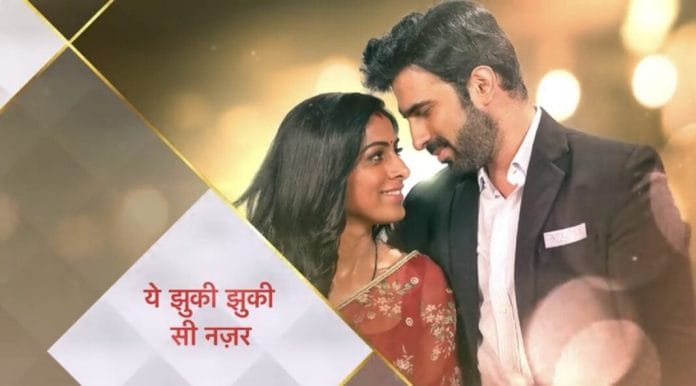 Yeh Jhuki Jhuki Si Nazar 3rd June 2022 Written Update on TellyExpress.com
Episode starts with Palki bringing several students for Brij to start his tutoring classes. He gets elated after seeing his students and ask them to take their place. Anju gives juice to Brij and ask him to drink it, but he notify about his class and says that he will take it later. She glares at him and warns that she won't let him start the class, if he doesn't drink his juice. He agrees to her order and finishes it, whereas Palki gives the advance payment of students to Anju. She thanks god for the money and prays for Brij's health.
Here, Brij teaches a story to his students and says that it's bad to take loan. He makes his students understand about it, while Anju thinks about the offer of taking loan from Rocky, whom she met earlier. Meanwhile, Dia manages her office work along with house chores. She talks with her boss and tells him about her idea, whereas she instructs Ramkali about the ingredients that they need.
Dia prepares food for the family, whereas she also receives some item. Bhavna and Madhu notices her and tries to instigate Sudha against Dia. They says that Dia is wasting Armaan's money for her family, while Sudha denies to believe it and says that she is self-made girl and won't take money without asking from her.
Elsewhere, Sudha says that Dia's family needs help at this moment of time and she won't mind giving money to Dia, whereas Madhu gives her example and says that she also haven't asked for any help after her husband's death. They keeps bringing out points to defame Dia, but Sudha ask them tk calm down and denies to believe them.
Dia serves food to the family members, while Saloni praises her and ask to sit along with them. Whereas, Bhavna intentionally praises Anju's handmade food instead of Sudha and says that even Armaan has enjoyed Anju's food more then Sudha's. Madhu shows her support towards Bhavna's statement and they tries to provoke Sudha, but Dia tells that she likes Sudha's food more then her mother's and insists latter to teach her.
Ahead, Bhavna and Madhu makes a comparison in between Madhu and Sudha's handmade food to make Sudha jealous, but their plan gets flopped. Whereas, the doctor comes to pick his child from Brij's house and appreciates him for his will to live his life. He says that he have seen other peoples getting demotivated after finding about their cancer, while Brij and Palki gets shocked.
Brij confronts the doctor and says that he is perfectly fine and doesn't have cancer. Whereas, Palki also says the same. She states that the doctor must have some confusion, to which the latter denies and says that he have studied Brij's case thoroughly. At that time Anju comes there and Palki confronts her. The latter cries and tells about the truth.
Further, Brij's health deteriorates and he gets unconscious. Palki and Anju gets worried for him and tries to call the ambulance. They then calls Armaan and notify about Brij's state. He goes there with the doctor and then stabilizes Brij. Anju prohibits them from notifying Dia, but Armaan calls her and tells about the matter. Whereas, Dia gets shocked and worried about her father.
Precap:- Anju calls Rocky late at night and questions that where she have to come to discuss about the loan. He tells her the address and she goes to meet him. Whereas, Dia gets confused seeing Anju missing from her room and then both Dia and Palki confronts Anju, as she returns back to the house.
Click to read