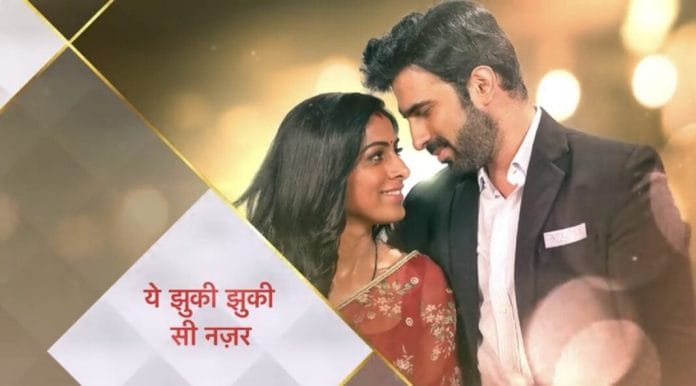 Yeh Jhuki Jhuki Si Nazar 4th June 2022 Written Update on TellyExpress.com
Episode starts with Armaan revealing Dia about Brij's condition and she gets shocked. She tells Sudha about the matter and states that she needs to go to her parent's house immediately. Sudha gives her permission and ask to contact her if she needs any help. Dia rushes to her house and gets devastated seeing her father's state.
She becomes emotional, while Brij ask his family not to cry for him. He questions Anju the reason for hiding the truth from him and declares that he doesn't worry about himself as he have his wife and daughters along with him.
Here, Anju gets sentimental but controls herself. Brij starts coughing, while Dia ask Armaan to bring water for him. She gets worried for her father, while he declares that he is strong enough to fight the cancer. He tries to cheer his family and diverts the topic to Palki's marriage.
Anju confronts Dia and ask why she hided the truth that she knew about Brij's illness. Dia replies that she does wanted Anju to worry about her and that is why kept it a secret from her. Palki cries seeing her father's state, while Dia consoles her. Meanwhile, Anju makes up her mind to take loan from Rocky in order to treat Brij.
Elsewhere, Palki shares her agony with Krish while he ask her to stay strong for her father. She cries stating that she feels Brij won't be able to survive, while he gives her confidence and consoles her. Whereas, Madhu hears their conversation and gets irked. She becomes furious and mocks Rastogis brothers to like Mathurs sisters.
Armaan suffers from a headache, when Saloni comes there and tries to make him eat. He denies while she sits along with him and gives a massage to his head. He feels relaxed, while she smiles seeing their reflection together. She comes out of her thoughts as he shows his gratitude towards her, whereas afterwards she feeds him the food.
Ahead, Dia calls Armaan but Saloni picks his call as he went to the washroom. Dia ask Saloni to notify Armaan to bring her laptop, as she needs to send an important document to the client. Saloni assures Dia and states that she will send her laptop via Armaan and congratulates for her first project.
Anju looks after Brij, while Dia tries to cheer the mood of her family. She reminds them about their childhood memories and then shows Brij's achievements to him and says that they will stick on the wall. She also consoles Palki and ask her not to get sad. She uplifts their mood and spends a quality time with her family.
Further, Dia makes her father sleep by singing lullaby for him. Whereas, Anju calls Rocky and decides to meet him in order to talk about the loan. Whereas, Rocky reveals his intentions stating that he will give money to Anju in double interest, so that she couldn't able to return it and then he can marry Palki in exchange.
Precap:- Anju meets Rocky secretly and he gives her 5 lakhs rupees. She gets shocked seeing such a huge amount, whereas Dia gets tensed on not finding her mother. She searches everywhere, while Anju returns back to her house. Meanwhile, Dia and Palki confronts their mother.
Click to read