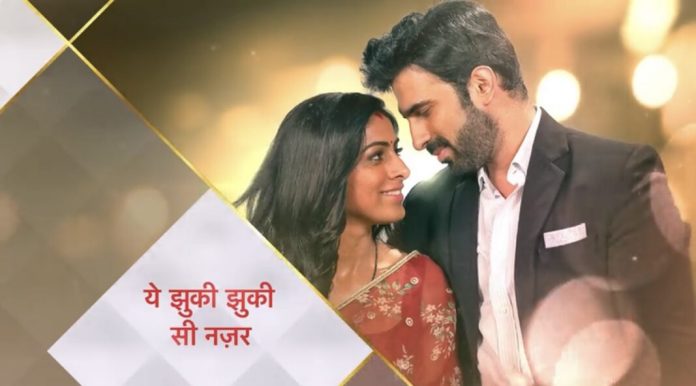 Yeh Jhuki Jhuki Si Nazar 8th June 2022 Written Update on TellyExpress.com
Episode starts with Rocky getting furious at Armaan and lashes out his anger on his team members. He gets flashes of how Armaan beated him and gets angry stating that he won't leave them. Whereas, his mens tries to calm him and says that Mathur's property papers isn't important to them. He gets frustrated and slaps his men, asking him to stay quiet. He proclaims to get Palki and determines to punish Mathurs for their action. He ask him mens to find out about Armaan and orders to get every minute details about him, while his mens assures to get information about Armaan.
Here, Dia and Palki along with Armaan sees Brij teaching his students. They notices Brij losing his concentration and doing simple mistakes in his teaching. They looks at each other and then gets a plan. They prepares themselves as a student and ask permission to sit along with other kids. All the students laughs seeing them, while Brij also enjoys their antics.
Brij along with his students had fun with Armaan, Palki and Dia. They enjoys their act and then Paki goes to drop Dia and Armaan towards the door. Dia ask Palki to take care of herself and assures that everything will get fine. Palki shows her gratitude towards Dia and Armaan for helping Brij and says that she is getting positive feelings.
Elsewhere, Dia goes away along with Armaan while Palki was about to get inside her house, when Rocky comes there and starts misbehaving with Palki. She glares at him and faces him fiercely. She was about to get inside her house, but he stops her and tries to get close to her. All the neighbours surrounds them and sees the drama.
Rocky was about to get near Palki, when Dia comes there and slaps him. She rebukes Rocky and ask him to stay away from Palki. He gets furious and twists her hand to catch her neck. He brings out the knife and points it at Dia's neck, while Palki gets shocked. He proclaims to kill Dia, but the latter kicks his knee and gets the oppertunity to push him down.
Ahead, Dia shouts at the neighbours and motivates them not to get scared of such mens. She even snatches Rocky's bike key in order to stop him from leaving. He gets scared seeing the crowd of women's, while they all starts beating him and teaches him a lesson.
Rocky apologises to the ladies and promises not to do it again. He then takes the key from Dia and rushes out of their. At that time Armaan comes there, but Dia and Palki hides about the matter from him and then goes away. Whereas, the doctor calls Anju and ask if they collected the money for the Operation, to which she asks for sometime, whereas Dia assures her that soon Armaan will give them money for the treatment.
Further, Saloni impresses Rastogis by feeding them food. Whereas, Madhu compares her with Dia. Meanwhile, Krish comes there and tells about his idea for business. He also tells that Armaan had promised him to help with the money from his savings.
Sudha motivates her son, while Saloni goes inside Armaan's room and touches his clothes. She also takes Dia's saree and smirks. Meanwhile, Armaan's manager goes to Sudha asking her to sign the cheque. She thinks that Armaan is taking out money for Krish and agrees to sign it.
Precap:- Armaan gets 25 lakhs rupees and handovers it to Dia, asking her to give it to Anju. Whereas, Sudha gets shocked seeing it. She confronts Armaan and scolds him for not telling him. She taunts Dia and Armaan stating that they are trying to change the rules of the house, while Dia get sad.
Click to read