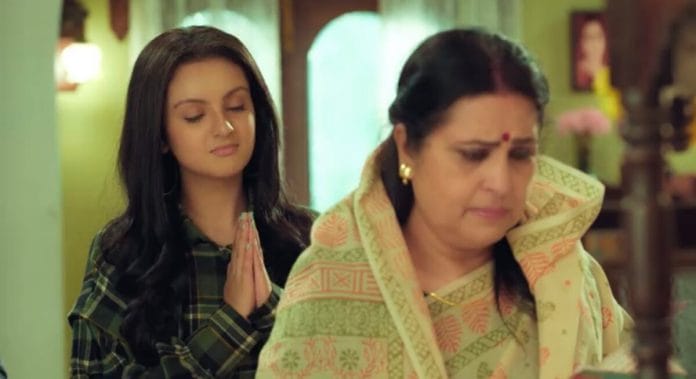 Yeh Jhuki Jhuki Si Nazar Spoilers, Upcoming Story, Latest Gossip , Future Story, Latest News and Upcoming Twist on tellyexpress.com

Star Plus popular serial Yeh Jhuki Jhuki Si Nazar is gearing up for some intense drama and interesting twists in the upcoming story.
In the earlier episode, Dia gets hold of Brij's medical reports and she takes pictures of it without letting Anju find about it. Whereas, Brij reminds her about the responsibilities towards her in-laws and sends her back to Rastogis house. Dia meets Saloni and learns about her childhood memories with Armaan.
Here, Madhu and Sudha compares Dia with Saloni and gets impressed with the latter. Saloni wins Rastogis hearts with her nature and keeps reminding Armaan about their childhood days. She mingles well with Krish and Bhavna also.
Dia worries about her father's health, while Armaan assures her that everything will get fine. He encourages her to have faith and proclaims that they will find a doctor who can treat Brij. Whereas, Anju worries about the money which requires for the advanced operation for Brij.
Ahead, Saloni shows her concern towards Brij and assures Dia that he will recover soon. Dia shows her gratitude towards Saloni for motivating her. Whereas, the latter ask the priest to pray for Brij and Dia gets touched by Saloni's gesture.
The priest mistook Saloni and Armaan to be a couple and blesses them, but the latter corrects him and notify Dia to be his wife. Madhu shows guys's pictures to Saloni and talks about her regarding the marriage, whereas the latter gets shy. Meanwhile, Saloni develops a bond with Dia and gives her ideas for her project.
Later, Dia tries to manage her office work along with house chores and contacting doctors for Brij's health. Armaan praises her multi-tasking ability, while she thanks him for always supporting her. Whereas, Krish meets Palki and mistakenly consoles her about Brij. She gets suspicious, but he handles the situation and determines to fulfill all her wishes.
Now in the upcoming episode, the doctor will meet Brij and appreciates his will to live. He will tell that patients usually looses their hope to fight against the blood cancer. Whereas, Palki and Brij will get shocked finding about it. Palki will deny to believe it, while the doctor says that he have checked Brij's report thoroughly. Brij will confront Anju regarding it, while she will tell them about the truth.
Will Dia be able to save her father?
Will Anju be able to console Brij?
It would be interesting to see what happens next on the show.
Stay tuned with us for more news, Spoilers and written updates of Yeh Jhuki Jhuki Si Nazar.