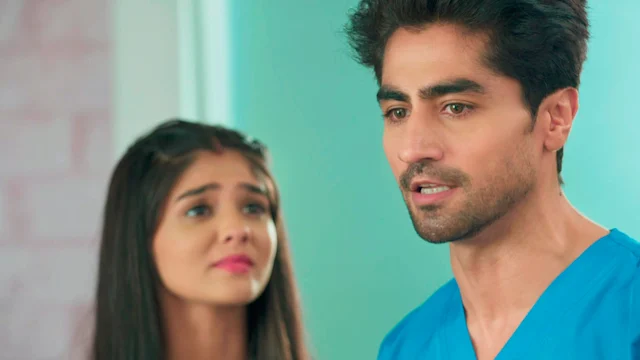 Yeh Rishta Kya Kehlata Hai 12th August 2022 Written Update on TellyExpress.com
In today's episode, Anisha cries. Abhimanyu asks Anisha what is bothering her. Manjiri says she knows the truth. Anisha stand stunned. Manjiri says Anisha fears like any other girl before marriage. Mahima talk about cold feet. She says Anisha is just going through the same. Manjiri asks Anisha to calm. Mahima asks Anisha not to worry about Suhasini as she will understand soon. Abhimanyu asks Anisha not to cry as Kairav is a good guy. He adds he sometimes hurt Akshara intentionally or unintentionally but Kairav will never do that too. Anisha cries.
Akshara share with Kairav that she is feeling helpless. She says she can't stress Abhimanyu because of Anisha. Kairav says he can't stand the cheating and needs to do something before it gets late. He runs to meet the family. Akshara tries to stop Kairav. She gets stuck. Kairav and Abhimanyu hold each other collar. Akshara get restless seeing Kairav and Abhimanyu. Back to reality; Akshara sees everything is fine. She sees Kairav standing. Abhimanyu asks Kairav what is the matter. He asks Kairav if he is sacred too like Anisha. Abhimanyu asks Akshara to handle Kairav the way he is handling Anisha.
Abhimanyu asks Kairav to tell the matter. Kairav says he has some urgent work. He leaves. Suhasini and Mahima discuss about Kairav and Anisha's wedding. Mahima says they will send wedding attires to Goenkas like the way they have sent it during Akshara, Abhimanyu's wedding. Suhasini asks Mahima not to send the clothes for everyone except Kairav. Swarna says they will bring the lehenga for Anisha. Mahima gets upset.
Anisha goes behind Kairav. Kairav asks Anisha to tell to her family that wedding is not going to happen. Anisha gets upset. Kairav says their engagement happened but after this they are not going to perform any ritual. Akshara over hears Kairav and Anisha's talk. She side Kairav. Abhimanyu spot Akshara and Anisha. He signal Akshara if everything is fine. Akshara assures Abhimanyu.
Mahima share her worry with Shefali. She says something is wrong with Anisha. Shefali asks Mahima not to overthink. Kunal receives a message from Maya. Maya threaten to end her life. Kunal runs to meet Maya. Abhimanyu talk with Akshara about Anisha's wedding. He says he is excited. He asks Akshara if she is fine. Akshara nods.
Furthermore, Abhimanyu and Akshara save a life of a child on a road. Abhimanyu gets restless thinking if Akshara would not have been with him, he would have failed to save the child. Akshara console Abhimanyu. Abhimanyu asks Akshara to promise him that she will never leave him. Akshara assure Abhimanyu. Abhimanyu asks Akshara to choose singing if her competition falls on his surgery day. Akshara decide to do anything for Abhimanyu. Later, Birlas learn Kunal postponed Abhimanyu's surgery. Abhimanyu gets disappointed. Akshara gets restless thinking about Kairav, Anisha and Abhimanyu. She asks God to help her to deal with the situation. [Episode Ends]
Precap: Kairav calls off the wedding. Anisha attempts suicide.
Also See: