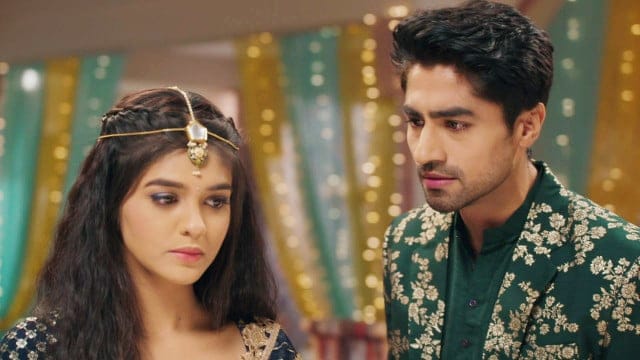 Yeh Rishta Kya Kehlata Hai 13th November 2022 Written Update on TellyExpress.com
In today's episode, Abhimanyu tries to save a girl child. Rohan helps Abhimanyu. Neil looks for child specialist. Arohi asks Neil to meet her once. Neil refuses to meet Arohi and asks her to go back. Arohi insists Neil to meet her as it necessary for her life. Neil hangs up Arohi's call. He is confused. Abhimanyu walks up to Akshara. Akshara asks Abhimanyu why he is restless. Abhimanyu tells to Akshara that he managed to save a girl child. Akshara says on the most special day, God puts one in the most difficult situation. Abhimanyu thanks Akshara for being there with him. He says he feels good when she is around. Abhimanyu says everything is under control.
Nurse looks for Neil and enquires about him from Abhimanyu. Abhimanyu looks for Neil. He asks Akshara to go back to home. Akshara decide to be with Abhimanyu. She decide find Neil later. Neil meets Arohi and asks the reason. Arohi hands over papers and vermillion to Neil. Neil is shocked. Abhimanyu and Akshara looks for Neil. They spot Neil. Arohi hides. Abhimanyu asks Neil what he doing outside when he is needed inside. He asks if he called child specialist or not. Akshara sees vermillion in Neil's hand and enquires. Neil makes an excuse. He further asks Akshara and Abhimanyu if they are going back to the house. Akshara says they will rest in the car.
Neil leaves the place and throws the papers. Arohi gets irked. Abhimanyu asks Akshara. Akshara sings a song and put Abhimanyu to the sleep. She worries about Neil. Next morning, Abhimanyu along with Akshara meet the kids. Kids wish Abhimanyu a happy birthday. Abhimanyu says to kids that they all are fine thus it is his best birthday. Harsh asks Akshara and Abhimanyu to go back to home.
Akshara, Manjiri, Shefali and Nishta see Abhimanu sleeping. They decide to execute their birthday plan for Abhimanyu. Abhimanyu wait for his surprise. Akshara confront Neil about the last night. Neil asks time from Akshara. Akshara decide to talk with Neil after Abhimanyu's birthday. Goekas decide to visit Birlas for Abhimanyu's birthday. Neil walks upto Abhimanyu. He hesitates to share a talk with Abhimanyu. Akshara comes and Neil leaves the place. She worries about Neil. Abhimanyu and Akshara gets closer.
Swarna checks Arohi's room and informs Goenkas that latter is missing. Akshara gets Abhimanyu ready for his birthday. Abhimanyu gets excited to celebrate his special day. [Episode Ends]
Precap: Abhimanyu and Akshara celebrate former birthday. Arohi and Neil stuns Goenkas and Birlas. They marry each other.
Also See: