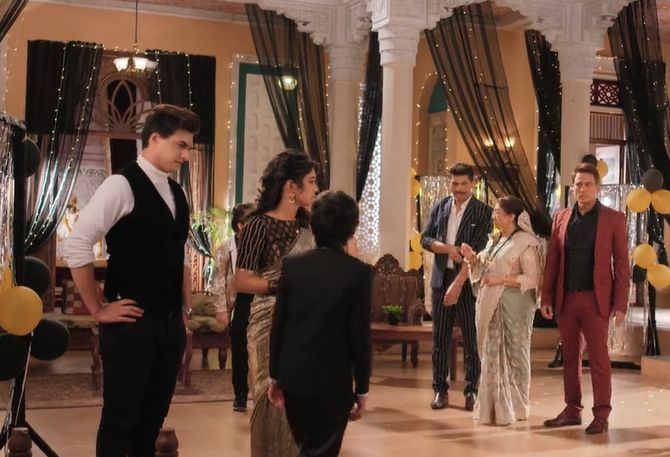 Yeh Rishta Kya Kehlata Hai 15th September 2021 Written Update on TellyExpress.com
Today's episode starts with Surekha saying to Sirat that she told to Gayu that she doesn't know to make rangoli. Sirat says God helped her. Kartik come and told to Suhasini and Surekha that Sirat took internet help to prepare rangoli. Suhasini praise Sirat and asks her to make rangoli until Ganesh Chaturthi is going on. Kartik says to Suhasini that Sirat is pro and can make rangoli daily. Sirat leave the place. Suhasini asks Surekha to prepare for pooja. Later, Suhasini confront Kartik for making rangoli. Kartik excuses himself. There, Swarna asks Manish to try understanding Sirat. She adds he doesn't used to like Naira too but latter made her place in his heart. Manish says she was Naira and she has no hope from Sirat. He adds he fear Sirat will break heart of the ones who is keeping hope from her.
Ahead, Goenkas's welcome Lord Ganesh. They dance together. In the meantime, Sirat receives a call from Kairav's teacher. She reveals to everyone that Kairav and Vansh bunked classes to attend the celebration. Sirat stands shocked and confront Kairav and Vansh. She gets angry on duo and refuses to talk with Kairav and Vansh. Kairav and Vansh apologize Sirat. Swarna, Suhaini and others asks Sirat to excuse Kairav and Vansh as duo realized their mistake. As a punishment Kartik ban Kairav and Vansh from attending the celebration further.
Surekha taunt Sirat and says Kairav is her step-son thus, she doesn't have any emotion and scolded Kairav. She add Sirat would have done opposite if she would have given birth to her child. Swarna tries to side Sirat. Surekha asks Swarna not to think everyone would be like her and will love step children equally. Sirat gives a befitting reply to Surekha. She says she knows what is right and wrong thus, she is able to teach Kairav and Vansh the difference between it. Sirat says she is step mother she knows but she is equally in pain punishing them.
Suhasini, Swarna and Gayu side Sirat. Surekha says Kairav and Vansh bunked the classes to attend the celebration which isn't a big deal. She adds God gets upset if children are upset. Ahead, Kairav and Vansh realize their mistake. They decide to apologize to Sirat. Kartik talks with Sirat. Sirat says she is accused for being a step-mother for teaching even good things to Kairav. [Episode Ends]
Precap: Sirat practice boxing. Kairav pray to God and asks if Sirat will go far from him like Naira. Sirat faints.
Also Check: