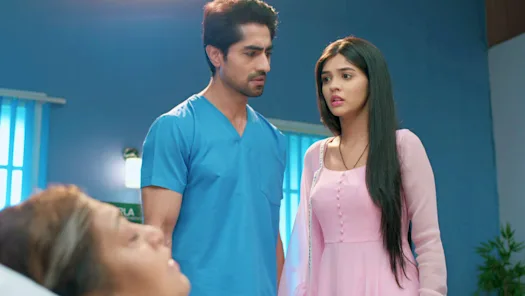 Yeh Rishta Kya Kehlata Hai 17th November 2022 Written Update on TellyExpress.com
In today's episode, Akshara sings a folk song for her channel viewers. Arohi thanks Akshara for her warm welcome. Akshara stand shocked seeing Arohi and Neil at the doorstep. Abhimanyu apologize to Akshara. He says he thought about Manjiri and thus decided to bring Arohi and Neil. Akshara says she don't doubt his decision. She adds she doesn't like Arohi's presence in the house. Abhimanyu says what he has done has a reason. Abhimanyu calls out Manjiri and inform that he brought back Arohi, Neil. Manjiri gets happy. Harsh talks with Anand and says Manjrii succeed in manipulating Abhimanyu.
Manjiri decide to welcome Arohi, Neil. She asks Birlas to gather. Manjiri asks Akshara to perform a ritual for Arohi, Neil. Akhara refuse to perform the ritual with half-heart and asks Manjiri to forgive her. She add she know she wants her to sort her difference with Arohi but it will not be easy. Manjiri still asks Akshara to perform the ritual. Abhimanyu asks Manjiri not to force Akshara. Mahima decide to welcome Arohi, Neil. Manjiri gets happy. Mahima perform a ritual for Arohi, Neil. Akshara leave the place. Arohi smirk seeing Akshara. Abhimanyu goes behind Akshara.
Swarna gives medicine to Manish. She calls out Arohi to sort the medicine. Swarna realizes Arohi is not in the house. Kairav asks Swarna not to worry as he knows about Manish's medicine. Swarna asks Kairav to take up the responsibility of the medicine. Manish adds his heart is weak and Kairav should also take up the responsibility of the business. Kairav stand shocked.
Abhimanyu says to Akshara that he will not ask her to not get angry. He urges Akshara to listen to him once. Akshara asks Abhimanyu to speak up. Abhimanyu remember his past with Neil, Arohi. Arohi refuse to take Manjiri's blessing and manipulate Neil against Birlas. Neil gets influenced and asks Abhimanyu to go back. Back to reality; Abhimanyu tell to Akshara that he can't leave Neil alone with Arohi as she is manipulating him. He says he can't let Arohi distance Neil from his family. Akshara think she can't support Abhimanyu's decision. Abhimanyu think he respect Akshara's disagreement. Akshara and Abhimanyu decide not to bring family in between their love again.
Mahima asks Arohi to be on her side in the house. Arohi bumps into Akshara and tell her that she will not let her live in peace. Akshara accepts the challenge. Kairav stress over Manish's demand. Suhasini encourages Kairav and asks him to learn from Vansh. Vansh over hears Kairav and Suhasini's talk.
Akshara and Abhimanyu avoid each other. [Episode Ends]
Precap: Akshara and Abhimanyu come closer. Akshara tells Abhimanyu about her music competition. Rohan tells to Abhimanyu about Akshara's accident.
Also See: