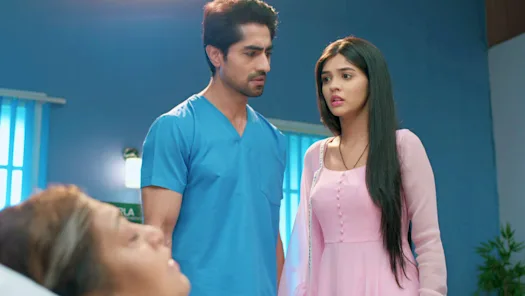 Yeh Rishta Kya Kehlata Hai 18th November 2022 Written Update on TellyExpress.com
In today's episode, Akshara sees her decorated room and calls out for Abhi. She asks Abhimanyu if he is avenging her by giving surprise like she did. Abhimanyu gets closer to Akshara. Akshara gets nervous. Abhimanyu and Akshara consummate their marriage. Arohi looks for light. Neil says to Arohi that she is looking beautiful in dark. Arohi says she is feeling hot. Neil tries to get close to Arohi. Arohi distance herself from Neil and says without light she can't survive. Neil stands shocked and goes back to sleep.
Akshara and Abhimanyu wake up. Abhimanyu tell to Akshara about his dream. He hesitates to complete his word. Akshara asks Abhimanyu to tell about his dream. Abhimanyu tells to Akshara that in his dream he was talking with Manish about her pregnancy. Akshara shy away. Abhimanyu asks Akshara why she blushed away hearing about the pregnancy. He asks if she didn't want a baby. Akshara says she wants three babies. Abhimanyu says he wants only one. He further says to have two babies. Abhimanyu asks Akshara if they are not hurrying in discussing about the babies. Akshara says baby will come when he/she has too.
Akshara further learn about music competition. Abhimanyu encourages Akshara to take a part. Birlas sit for breakfast. Arohi perform kitchen ritual and serves Birla. Manjiri asks Akshara if she is going somewhere. Akshara tells about music competition. Harsh and Manjiri wishes good luck to Akshara. Mahima asks Arohi to join Birla hospital if Akshara is focusing on her career. Arohi says she is not in a hurry to join the hospital. She adds Akshara will be on work so there should be someone who can help Manjiri in household work. Akshara gives a befitting reply to Arohi and says she didn't say she will not balance house and career. She decides to go on a work.
Abhimanyu gets restless while Akshara leave. Akshara decide to go alone for the competition. Later, Rohan inform Abhimanyu about Akshara meeting with an accident. Abhimanyu rush to Akshara. He learns about Akshara meeting with an accident while crossing the road. Akshara informs Abhimanyu about hurting her tummy with bike handle. Abhimanyu worries for Akshara. Arohi informs Vansh about her presence at Birla house. She tries to manipulate Manjiri over post marriage ritual. Manjiri ignores Arohi. Neil asks Arohi to give some time to Manjiri.
Abhimanyu meets Akshara's doctor to learn about her health. He gets shocked learning that Akshara's pregnancy might go through complications because of her injury. [Episode Ends]
Precap: Abhimanyu gets angry learning about Akshara's pregnancy. Akshara confront Abhimanyu about meeting gynaecologist.
Also See: