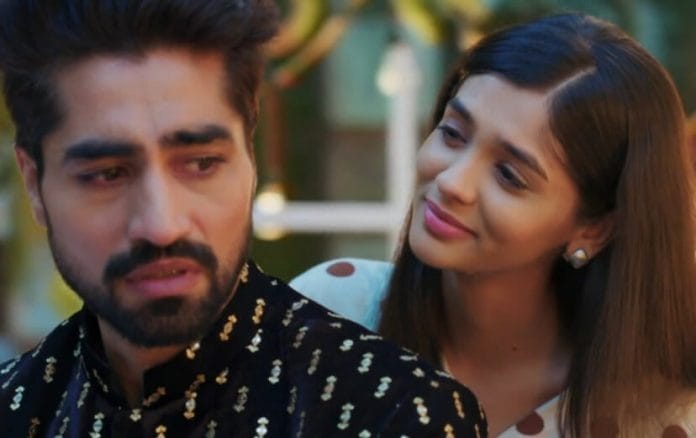 Yeh Rishta Kya Kehlata Hai 19th November 2022 Written Update on TellyExpress.com
In today's episode, Abhimanyu asks gynaecologist about Akshara's health report. Doctor tells to Abhimanyu that Akshara had internal injuries. Abhimanyu recall about swelling in Akshara's abdomen. He asks doctor to clear about the internal injuries as they can cure her. Doctor informs Abhimanyu about Akshara's pregnancy complications. She tells to Abhimanyu that it will be life risk for Akshara and baby if she conceives. Abhimanyu gets stunned. Akshara handle a baby out there. She tells to the baby that today only they were talking with her husband about their baby. Akshara says their baby will be cute like her. Doctor asks Abhimanyu if he is fine. Abhimanyu spots Akshara with a baby and steps back.
Akshara looks for Abhimanyu. Abhimanyu think about Akshara's pregnancy complications and worries. He dreams about having a baby with Akshara. Akshara asks Rohan if he has seen Abhimanyu. She says Abhimanyu went to meet with her doctor but didn't return. Rohan tells to Akshara that her doctor left the hospital long back. Akshara looks for Abhimanyu. She further asks Rohan to hide about her accident from Harsh and Anand. Rohan assures Akshara. Abhimanyu is stressed. He goes back to Akshara. Akshara asks Abhimanyu where he went. Abhimanyu takes Akshara back to the home.
Manish instruct Vansh about their latest meeting. He informs that Kairav have decided to join the office. Vansh gets happy for Kairav. Swarna receives a call from Manjiri. She worries if it is related with Arohi or Akshara. She takes the call.
Akshara talks with Abhimanyu and tells him about meeting a cute baby. She wishes to have cute baby. Abhimanyu avoid the talk. Manjiri inform Swarna about Arohi. Suhasini asks Swarna about the call. Swarna informs Goenkas about Birla's accepting Arohi. She says Manjiri wants Arohi's ritual to be done at Goenka house. Manish gets angry and says Arohi don't exist for them.
Akshara asks Abhimanyu what is wrong with him. She asks him not to worry so much as she is fine. Abhimanyu cries later and decide to disclose about to Akshara about the complications only when he will get her a hope along. He consults with gynecologists'. Akshara confront Abhimanyu about consulting gynecologists'.
Manish share with Suhasini that he is feeling bad cutting tie with Arohi. He feels helpless. Abhimanyu lie to Akshara that his friend wife is going through pregnancy complications. Akshara share with Abhimanyu that if ever she has to face the complications she will die. Abhimanyu stops Akshara for talking about herself. [Episode Ends]
Precap: Manjiri says Akshara will become a good mother in future. Akshara wishes to become mother. Abhimanyu gets teary. He worries if Akshara will learn about her complications.
Also See: