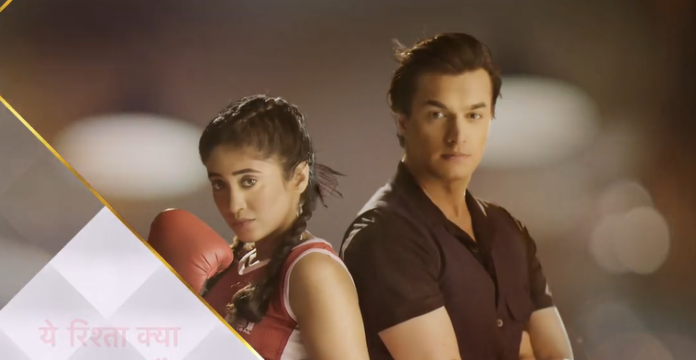 Yeh Rishta Kya Kehlata Hai 22nd January 2021 Written Update on TellyExpress.com
Today's episode starts with Sirat. She asks Eela if she remember her 8th birthday. Sirat reveals on that day she left her and went with her lover. She claps and says to Eela no mother can give a gift like she gave to her. Eela says to Sirat she has no right to insult her. Sirat says she has no respect and even if someone beat her and throw out of house than also it won't be call as insult. Eela asks Sirat she can't speak like this to her. Sirat says she don't have shame left as she roam with her second husband. Eela and Sirat argue with each other. Sirat's grandmother interrupts and asks both to keep quiet. Sirat discloses that Eela wants to get her marry because she wants to take over the house. Sirat's grandmother asks Sirat to stay calm. Sirat asks her grandmother why she always suggests her to be quiet. She throws a vase and her friend was about to get hit. Sirat's friend asks her if she will not come to meet coach. Sirat says yes and her grandmother stops her. She locks her inside the room and says she will not let her go anywhere.
There, Kartik stops Kairav to go on a school trip. Kairav thinks good Kartik stopped him as he too didn't wanted to go on a trip. Luv, Mainsh and Suwarna asks Kartik not to control Kairav so much. Kartik leaves the place. Other side, Sirat escapes the house when her granny don't allow her. There, Karitk gets upset seeing a girl holding Akshu. He asks the girl he would have taken permission before picking up his daughter. Girl asks Kartik if she can hold his daughter. Kartik refuses. Akshu cries. Girl says to Kartik that Akshu was atleast not crying in her arms. Suwarna and Surekha come and welcome puja. Suwarna asks Kartik if he don't remember her. Kartik says no and leaves the place. Puja asks about Kairav. Surekha looks at Puja.
Other side, Kairav thinks Kartik allowed him to go on a school trip. Sirat too comes to the same place. Kairav asks God to make him meet his mother. He sees Sirat and runs towards her thinking she is Naira. Kairav cries seeing Sirat. He hugs her. Sirat stands confused. She refuses to recognize Kairav. Kairav refuses to let go Sirat. Sirat tells to Kairav she is unmarried and is not anyone's mother. Kairav's teacher takes her away. Here, Kartik looks for Kairav and worries. Mainsh pacify Kartik. Kartik tell to Mainsh, Kairav needs him. In the meantime, Kairav urges his teacher to make a call to Kartik. He tells to Kartik about Sirat. Kartik stands shocked. (Episode ends)
Precap: Kartik waits for Sirat/ Naira.
Also read: