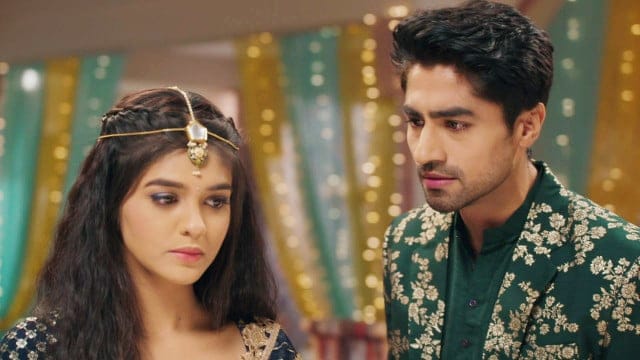 Yeh Rishta Kya Kehlata Hai 22nd November 2022 Written Update on TellyExpress.com
In today's episode, Akshara offers cold coffee to Arohi. She says since childhood she knows after getting ill she needs cold coffee. Arohi accuse Akshara for ruining her veneration. Akshara asks Arohi to stop the drama as they both well know that she didn't inform about the veneration. Abhimanyu talks with Neil and says they need to talk. He adds he wasn't scolding him. Neil realises his mistake. Abhimanyu says Akshara, Arohi are sisters and they have bitter past. He says both the brothers have good memories.
Akshara decide to move on and make a fresh start with Arohi. Abhimanyu says to Neil that he will not bear anything against Akshara. Neil says he agrees but he will not handle if Arohi is questioned every time. He understands Abhimanyu. Arohi says to Akshara that she has suffered a lot since childhood thus it is easy for her to move on. She asks Akshara to not lecture her. Akshara gets disappointed and think she can't expect maturity from Arohi. Arohi thanks Akshara for the coffee. Abhimanyu think Neil understood him but he can't trust Arohi.
Abhimanyu looks for Akshara. He thinks she might be stressed but she will not share. Abhimanyu worries Akshara is not well and if she will take stress than her health will be affected. Akshara enters the room. Abhimanyu, Akshara decide to delete what all happened. Both decide to go on a long drive to divert their mind. Akshara and Abhimanyu enjoy their drive. Akshara talks about baby. She wishes to have baby till next year. Abhimanyu recall about Akshara's pregnancy complications.
Also, Read in Hindi :-
Abhimanyu goes to fetch ice-cream. Akshara eats the ice-cream. Abhimanyu asks Akshara she is eating ice-cream as if she didn't have it from long. Akshara disclose to Abhimanyu that from past one-year she controlled herself from having ice-cream as she co-sings for Maya. Abhimanyu gets shocked hearing Akshara. He loads her with ice-cream. He hugs Akshara. Abhimanyu pray to God to give him the solution before Akshara learns about her pregnancy complications.
Mahima and Arohi talk with each other. Mahima share with Arohi that she deserves a MD position in Birla hospital before Abhimanyu. Arohi decide to be in everyone's good books so that she can get her share in Birla hospital too. Akshara fail to hear Mahima and Arohi's conversation. Arohi decide to be careful of Akshara.
Swarna miss Akshara, Arohi. Akshara meet Goenkas and tells about the music contract. Rohan tells to Abhimanyu about the hospital matter. Abhimanyu learn Neil changed the order of the patient who was supposed to get the kidney first. Elsewhere, Goenkas gets happy for Akshara. Akshara thanks Naira. Kairav feed sweet to Akshara. Swarna asks Akshara if everything is fine between Arohi and her. Akshara assures Swarna. [Episode Ends]
Precap: Abhimanyu confront Neil about making decision on his behalf. Neil misbehaves with Abhimanyu. Abhimanyu says no one will take the hospital decision on his behalf.
Also See: