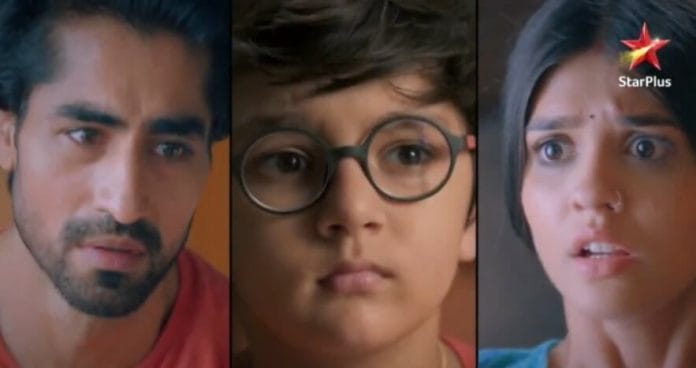 Yeh Rishta Kya Kehlata Hai 26th September 2023 Written Update on TellyExpress.com
In today's episode, Ruhi says she was aware the Birlas and the Goenkas would surely cry. She says both families will fill Udaipur's lake with their tears. Ruhi demands to dance. The ladies did their dance to the 'Badhai' song. Ruhi and Abhir bring Abhimanyu to the dance floor too. Muskaan runs to her room. She cries loudly. Abhimanyu and Akshara receive blessings. Muskaan says Abhinav left the world. She says Abhimanyu and Akshara's relationship will never see happiness. Muskaan says she can't accept Akshara and Abhimanyu's wedding.
Abhimanyu says to Akshara that they don't have to dance. Akshara says she didn't deny. Manjari reveals the wedding date. She plans the grand wedding of Akshara and Abhimanyu. Akshara meets Muskaan. Muskaan tries to avoid Akshara. Akshara asks Muskaan to talk instead of avoiding her. Muskaan questions Akshara's decision. Akshara says, for the sake of Abhir, she is moving on in her life. She says Abhinav might be happy with her decision. Muskaan asks Akshara why Abhinav will find her decision right. Akshara says for Abhir: She adds that Abhinav has loved Abhir unconditionally. Akshara says Abhinav always wanted a family for Abhir, and he would be happy with her decision. She says Muskaan is precious to her. Akshara asks Muskaan to think about it. Kairav spots Akshara and Manjari. Akshara adds that Abhinav would not have liked Kairav and Muskaan staying separated in the same room.
Rohan meets Akshara and Abhimanyu. He demands a party. Akshara assures Rohan and other staff of the party. Abhimanyu demands tea. Tea is about to fall on Akshara. Abhimanyu saves Akshara. Akshara scolds Abhimanyu for interrupting.
The Goenkas plan a simple wedding. Manjari and the Birlas stunned the Goenkas, demanding a grand wedding for Akshara and Abhimanyu. Abhimanyu tries to tie a medicated band. Akshara helps Abhimanyu. Abhimanyu demands a court marriage. Akshara says both families will not agree.
The Goenkas and the Birlas argue over grand weddings and simple weddings. The Goenkas worry for Akshara's reputation. Manjari gets angry. Abhimanyu likes a simple marriage. Manjari is against Abhimanyu's decision. Suhasini decides to talk with Akshara. Manish and Swarna ask Suhasini not to pressurize Akshara. Abhimanyu tries to convince Manjari that he is happy with Akshara's simple wedding idea. Mahima and Shefali try to convince Manjari.
Suhasini asks Akshara if she will be able to give happiness to Abhimanyu. Akshara thinks about Abhimanyu. Suhasini asks Akshara not to tell Goenkas that she has pressurized her. Akshara prays to God to help her keep her promise to Abhimanyu. [Episode Ends]
Precap: Manjari and Swarna demand Akshara make Lord Ganesh's idol. Abhimanyu and Akshara spend quality time together.
Also See: