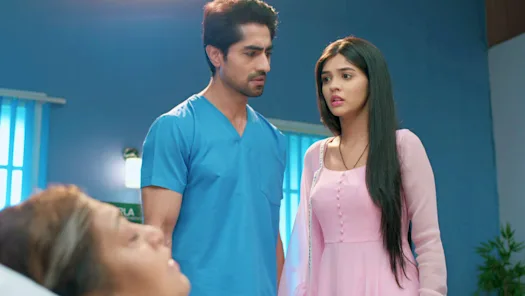 Yeh Rishta Kya Kehlata Hai 28th October 2022 Written Update on TellyExpress.com
In today's episode, Abhimanyu receives Akshara's voice note. Akshara in her voice note talks about giving him Kairav's innocence prove. Abhimanyu gets restless. He talks with Manjiri and share about breaking Akshara's trust. Abhimanyu says to Manjiri that Akshara was expecting him to understand but he ignored her. He realise his mistake. Manjiri asks Abhimanyu to forget Akshara and move on in his life. Abhimanyu asks Manjiri to not apply reverse psychology on him. He asks Manjiri to help him in getting clarity about Akshara. Abhimanyu asks Manjiri to help him to trust Akshara or not. Manjiri asks Abhimanyu to do whatever his heart is saying.
Abhimanyu decide to trust Akshara. He decides to find the proofs as Akshara claimed she has left it for him. Abhimanyu looks for Kairav's innocence proofs. Shefali decide to give quilt to Shivu and Abhimanyu. She unknowingly hand over Kairav's innocence prove to Abhimanyu. Pendrive falls down. Parth takes the pen drive.
Manish sits with Goenkas. He says he is happy to have dinner together. Manish says he is clueless next when they will sit together and share time. Akshara pray to God to keep her family together like today. Manish, Akhilesh and others folds hand and join Akshara in the prayer. Parth gives the pen drive to Mahima. Mahima looks for the shirt which she kept with the pen drive. She worries if Abhimanyu will see the proof. Abhimanyu think if Akshara left proof than how it didn't received by anyone in the house. He says his family is not careless to destroy such an important clue.
Akshara sings to cheer Goenkas. She wipes Kairav's specs. Kairav sits teary. Akshara pray to God to do some miracle and prove Kairav innocent. Abhimanyu wear the white shirt on which Akshara left a note for him. Akshara decide to claim bail for Manish and Kairav.
Swarna worry for Manish. Suhasini says to Arohi that Swarna trust her and asks not to break it. Arohi stand mum. Manish and Kairav get ready for the hearing. Arohi asks Akshara chances for Kairav and Manish's bail. Akshara stand hopeless. She asks God to help them. Abhimanyu enters Goenka house with Birlas, police and media. Akshara holds Abhimanyu's collar and ask him why he is doing drama when they were coming to the court. Ahkilesh says like last time Abhimanyu called media to make fun of them.
Akshara stands teary. Abhimanyu takes out his jacket and shows his shirt that has Akshara's note. Mahima worry how shirt reached to Abhimanyu. Akshara and others stand stunned. Abhimanyu tells to media that Kairav is innocent. Mahima stands shocked. Abhimanyu withdraw the case against Kairav and Manish. Inspector says they can't simply withdraw the case without prove. Abhimanyu gives pendrive to inspector.
Akshara asks Abhimanyu how proof reached to him so late. Abhimanyu says to Akshara that she was always right. [Episode Ends]
Precap: Mahima says she will not spare Kairav. Manjiri goes against Mahima. Abhimanyu decide to win back Akshara
Also See: