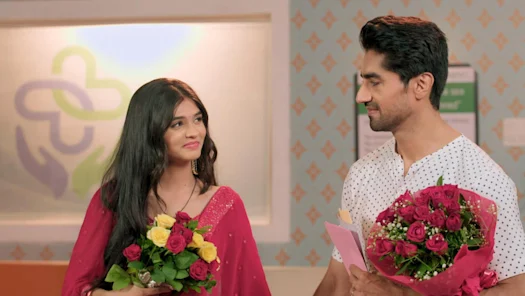 Yeh Rishta Kya Kehlata Hai 2nd August 2022 Written Update on TellyExpress.com
In today's episode, Abhimanyu says to Akshara that he will keep hugging her until her birthday gets over. He gives hug to Akshara. Abhimanyu says to Akshara that everyone love her a lot. He says not everyone will be with her but their love will be with her forever. Akshara says to Abhimanyu that he will be with her forever. She says her heartbeats only for him. Abhimanyu says his heartbeats only for her. Both get romantic. Akshara wish to give Kunal's yes as a return gift to Abhimanyu.
Akshara gear up to celebrate her birthday. Abhimanyu show cake to Akshara and asks her to review. Akshara says to Abhimanyu that he made good cake. Neil and Parth say they don't understand if Akshara is complimenting Abhimanyu or pulling his leg. Everyone laughs. Akshara says to Abhimanyu that he really bakes a good cake. She promises to Abhimanyu that she will never compromise upon her dream. Akshara says music was her passion but post Abhimanyu started giving importance to her music, she will surely live her dream. Abhimanyu feels glad. He asks her to cut the cake.
Goenka's and Birla's give gift to Akshara. Akshara receives envelope by Harsh and gets emotional. Vansh asks Abhimanyu to show his gift for Akshara. Manjiri says why Abhimanyu will give gift in front of all. Vansh and Shefali say why he can't. They insist Abhimanyu to show his gift. Akshara opens Abhimanyu's gift and find hoodie. Abhimanyu explain to Akshara about gifting her hoodie. He says Akshara is caring but sometimes forget to think about herself thus the hoodie will help her to cut off from the world so that she can make a relationship with herself. Manish says expensive gift any husband can give but thought gift like Abhimanyu is rare.
Neil says what if Akshara will hide from Abhimanyu. Abhimanyu says she is not allowed to hide from him. Akshara asks God to take anything but in return he should fix Abhimanyu's hand. Neil asks everyone to stand for a group picture. Anand message Harsh and says he is missing him. Harsh see Akshara's birthday picture and recall his past with Birla.
Abhimanyu surprise Akshara by performing a song for her. He feels pain. Akshara asks Abhimanyu to not give pain to his hand as his message reached to her. Abhimanyu feels sorry. Akshara helps Abhimanyu in completing his song.
Later, Kairav miss Anisha. Swarna, Suhasini and Manish decide to talk with Mahima and Anand to know whether Anisha wants to continue her relationship with Kairav or not. Kairav stops Goenka's. He asks them not to spoil Akshara's birthday. Arohi managed to tell Abhimanyu that Akshara went to Dargah. Abhimanyu confront Akshara. Akshara reveal about her search for Dr. Kunal. [Episode Ends]
Precap: Akshara discloses that Kunal is ready to meet them. In the meantime, Anisha returns back and proposes Kairav for the marriage.
Also See: