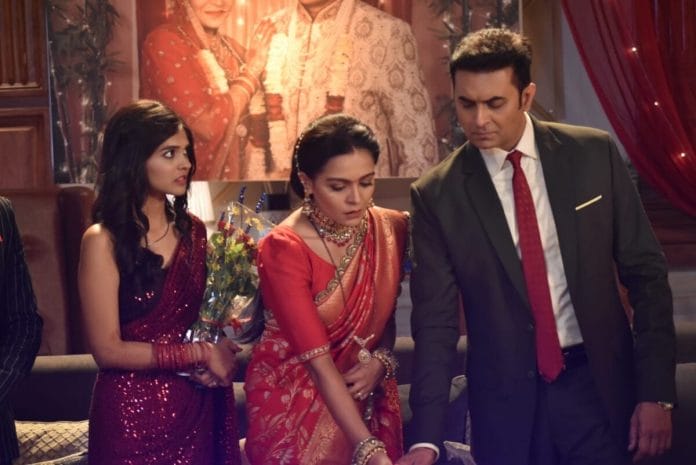 Yeh Rishta Kya Kehlata Hai 2nd July 2022 Written Update on TellyExpress.com
In today's episode, Akshara's dress gets stuck. She finds Abhimanyu sleeping and gets smitten. Akshara put cover on Abhimanyu and adores him. She clicks pictures with sleeping Abhimanyu and recalls her moments with him. Akshara says AC is ON still Abhimanyu is looking hot. She thanks God for sending Abhimanyu in her life. Akshara decide to tell to Abhimanyu post he wakes up that he is special. Another girl adores Abhimanyu. Akshara gets jealous and signals her that he is already married. Girl walks away. Rohan tells to Akshara that her patient is waiting for her. Akshara says early morning who visited her. Rohan says that her patient seems psycho. Akshara asks Rohan not to say like that.
Akshara visit Sanjay. Abhimanyu think Akshara didn't visit him yet. Sanjay talks weirdly with Akshara. Akshara asks Sanjay who recommended him to visit her. Sanjay says his friend. He adds post she left him he feels lonely. Sanjay asks Akshara to come along as he needs her. Akshara asks Sanjay to look for some psychologist. Sanjay grabs Akshara's hand and tries to harass her. Abhimanyu comes for Akshara's rescue. He asks guards to take Sanjay. Abhimanyu gives warming to Sanjay and leave him. He asks him not to show his face again in the hospital.
Abhimanyu asks Akshara if she is fine. Akshara asks Abhimanyu if he is fine. Both decide to complete their talk. Abhimanyu and Akshara think how lucky they are to find each other. Both decide to reconcile. Abhimanyu praises Akshara. Akshara blushes and asks Abhimanyu to meet her at hospital's backyard.
Sanjay manage to enter the Birla hospital again. He decides to avenge Abhimanyu for challenging him. He takes the sharp blade and looks for Abhimanyu. Abhimanyu and Akshara try to get closer to each other. Sanjay sees Abhira. Abhimanyu senses Sanjay's presence and protects Akshara. Sanjay runs. Abhimanyu chases Sanjay. He stops Akshara from following him. Akshara regrets calling Abhimanyu to the place. Abhimanyu find Sanjay. Sanjay loosen the oxygen cylinder knob. Akshara looks for Abhimanyu. Abhimanyu asks Sanjay to share a talk calmly. Sanjay stands with the lighter. Abhimanyu tries to explain Sanjay not to risks so many life to avenge him. Sanjay throws the lighter. Birla hospital North wing is set to fire. Abhimanyu and Akshara looks for each other. Rohan informs Mahima and Anand about the fire. Anand and Mahima wonder how fire breaks out in the hospital. Neil and Arohi looks for fire extinguisher. Abhimanyu and Akshara help patients to escape the place. They try to rescue as many. Abhimanyu senses Akshara's presence around. He fails to see Akshara. Mahima calls fire brigade. Abhimanyu realises Akshara is stuck in the fire. He worries for her. [Episode Ends]
Precap: Abhimanyu and Akshara try to save themselves from fire. Both faint together.
Also See: