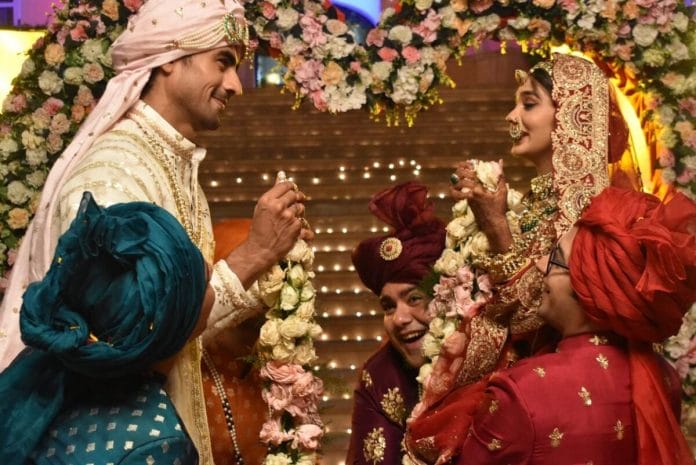 Yeh Rishta Kya Kehlata Hai 2nd June 2022 Written Update on TellyExpress.com
In today's episode, Anand talk with Harsh and says Mahima wish to keep the new department name after her mother. Harsh gets shocked. Anand says the land is gifted by their father. Harsh says but he established the hospital. Abhimanyu asks Harsh for calling him. Harsh asks Abhimanyu why he is always in a taunt mode. He asks if he disturbed his musical night. Abhimanyu asks the reason for calling him. Harsh asks if he remember about Birla hospital foundation day. Abhimanyu says Birla hospital is equally important for him. Anand and Harsh decide to visit the hospital at night to see the arrangements. They ask Abhimanyu to come along. Abhimanyu think not a single night he has spent well with Akshara. Anand, Mahima and Harsh ask Abhimanyu to come fast. Akshara signal Abhimanyu to go.
Abhimanyu prays on the occasion of founder's day. He prays to God and says why he is getting restless as something bad is going to happen. Abhimanyu asks God to take care of Birla hospital, Manjiri and Akshara. Anand, Harsh and Mahima get excited for foundation day. Parth asks Akshara if they are visiting hospital. Akshara says to Parth that they will go next day as today they will join founder's day at Birla hospital. Mahima asks Manjari if she will attend the puja or not. Harsh says what Manjiri will do at the hospital. Abhimanyu says why Manjiri will not attend as the land belongs to her father. He adds Manjari is his mother and will attend the puja at Birla hospital founder's day.
Harsh asks Neil if he made the list of the doctors. Neil based on old data he got the list. Harsh asks Neil to read the list. Abhimanyu asks Neil to have breakfast. He reads the list. Abhimanyu takesDr Avni's name. Manjari and Harsh gets restless. Harsh says Dr Avni is dead. Akshara sees the restless face of Manjari and Harsh. Manjari excuses herself. She gets restless thinking about her past. Akshara confront Manjari about her worry. Manjari hide the truth from Akshara. She says that she can't share her worry with anyone. Akshara think what is making Manjari restless. She adds after learning about DNA testing Manjari got restless. Akshara worry for Manjari.
Goenkas' get ready to attend the Birla's foundation day. Manish asks Arohi if she is coming with them. Arohi says she has to collect DNA report thus she is going early. Manish says a big day for Harsh, Abhimanyu and others. He asks Kairav to be polite.
Afterwards, Harsh scolds Neil. Abhimanyu decide to share a talk with Neil. Akshara visit hospital and gets mesmerized seeing the decoration. She further learns that Manjari was enquiring about DNA reports. She goes to take the report but recalls her promise with Abhimanyu. Arohi takes the report. Doctor out there thinks reports are with Akshara. [Episode Ends]
Precap: Arohi informs Akshara that Abhimanyu is Harsh's illegitimate child. Akshara confront Manjari about the same. Reports reach to Abhimanyu
Also See: