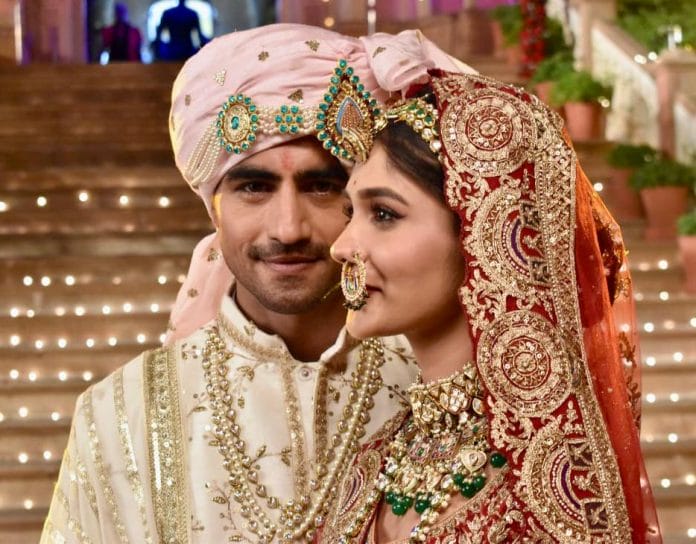 Yeh Rishta Kya Kehlata Hai 30th May 2022 Written Update on TellyExpress.com
In today's episode, Akshara helps Manjiri in the kitchen. Manjiri asks Akshara to get ready for the work as staff will do the kitchen work. Akshara says to Manjiri that if she will work in in the kitchen than she will do too. Abhimanyu apologizes to Akshara for dozing off. He asks Akshara to come. Akshara signals Abhimanyu to go. Abhimanyu insists Akshara. Akshara ignores Abhimanyu. Staffs ask Akshara what happened. Akshara says nothing.
Akshara brings juice for Abhimanyu. Abhimanyu ignores Akshara. Akshara asks Abhimanyu to stop doing exercise as he is already hot. She adds other girls will eye upon him. Abhimanyu asks Akshara if she is jealous. Akshara says only she has a right on him. She adds he does mistake and gets angry himself. Abhimanyu asks Akshara what he has done. Akshara asks Abhimanyu to figure out. Abhimanyu apologize for not able to spend quality time with Akshara. Akshara tries to get romantic. Abhimanyu leans upon Akshara. Neel interrupts Abhimanyu and Akshara. He informs that Manjiri is calling them. Abhimanyu think he needs to take Akshara to some other place for their honeymoon else Neel and his sleep will keep interrupting them.
Manjiri tried to destroy the adoption papers. Harsh spots Manjiri destroying the paper and confront her. Manjiri says to Harsh that it is just a waste. She asks staff to throw the garbage. Adoption paper slips from Manjiri's hand. Parth argues with Shefali for not giving him space. Shefali and Parth fail to see the paper. Neil too fails to see the paper too.
Akshara thanks Manjiri for giving her tiffin. She calls out Abhimanyu to drop her on time as it is her first day. Mahima and Harsh taunt Akshara for working at charitable hospital. Akshara gives a befitting reply to Mahima and Harsh. She says she will make her identity. Anand wishes good luck to Akshara. Akshara calls out for Abhimanyu. She falls and spread her important papers. Adoption papers get along Akshara's paper. She finds the paper and ignored.
Abhimanyu drops Akshara at the hospital. Akshara learns at charitable hospital that a lady needs a help. She seeks Abhimanyu's help. Akshara informs that at charitable hospital lady is being ignored and her child needs a help. Abhimanyu lashes out at charitable hospital for ill-treating patients. He wishes to meet the CMO. CMO come and defend himself. Other staffs out there accuse Akshara for creating the scene by calling Abhimanyu.
Akshara confront Abhimanyu for visiting the hospital. Both of them argue with each other post Akshara quoted they could have handle the matter calmly. Later, Harsh and Mahima scolds Akshara for calling Abhimanyu to the charitable hospital and creating a scene. Akshara tries to explain. Mahima scolds Akshara. Manjiri feels bad for Akshara. Ahead, Harsh informs about DNA testing and Manjiri gets restless. [Episode Ends]
Precap: Harsh inform Birla's that DNA testing arrangement is done at the hospital. Mahima asks Manjiri if she is visiting. Harsh says what Manjiri will do there. Abhimanyu invite Manjiri. Manjiri and Harsh sit shocked hearing Dr. Avni's name.
Also See: