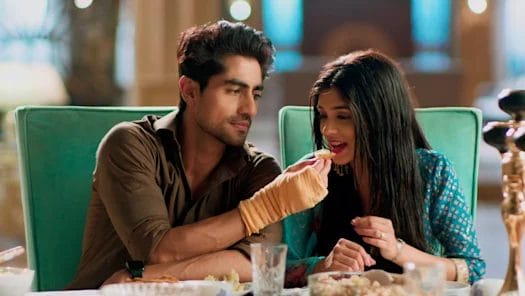 Yeh Rishta Kya Kehlata Hai 3rd August 2022 Written Update on TellyExpress.com
In today's episode, Abhimanyu confront Akshara about visiting Dargah. Akshara discloses to Abhimanyu about her meeting with Kunal. She says post learning Kunal is their last hope she went in search for him. Mahima gets angry on Akshara for trying to meet Kunal without their acknowledgement. She gets mad at Akshara for trying to show that only she cares for Abhimanyu. Kairav too questions Akshara for going to Dargah without telling anyone. Akshara says she was faithful but not sure thus she didn't inform anyone. She decides to go to Dargah again to search for Kunal. Abhimanyu stops Akshara. He says he respects her faith and prayer but he don't want her to stress upon finding Kunal because he meets no one. Abhimanyu says to Akshara that in sometime her hand will be paralyzed forever.
Akshara mobile rings. Abhimanyu asks Akshara to take the call. Akshara gets emotional learning Kunal agree to check Abhimanyu. Goenka and Birlas ask Akshara about the call. Akshara discloses that Kunal agree to check Abhimanyu's hand. She says she is sure he will agree to do surgery too. Abhimanyu and others gets happy. Arohi asks Akshara how Kunal got her number. Akshara tells she left her number at the Dargah with a person whom she helped. She adds she is sure the same person would have given her number to Kunal. Abhimanyu hugs Akshara. Birlas and Goenkas get happy. Manjiri asks Anand to inform Harsh too as he was worried for Abhimanyu. Harsh gets elated.
Anisha returns home. She wishes Akshara. Akshara says to Abhimanyu that her birthday is full of surprises. Abhimanyu asks Anisha why she didn't called him as he would have come to pick her up. Anisha asks Akshara if she can take a little limelight. Akshara allows Anisha.
Anisha proposes Kairav for wedding. Kairav and others stand stunned. Suhasini gets angry on Anisha for mocking Kairav's love. Kairav asks Anisha why she didn't replied to her messages and calls. Anisha says she was busy. Manish says how much time it takes to send a message. Goenkas against Anisha. Suhasini asks Kairav not to reply Anisha in hurry. Anisha asks Kairav to speak up. Kairav stands mum.
Akshara asks Goenkas to give time to Kairav and Anisha. Suhasini gets mad at Mahima for not giving good upbringing to Anisha. She add Kairav is stressed because of Anisha. Mahima says even Abhimanyu is stressed because of Akshara but they never quote. She accuses Akshara for Abhimanyu's nerve damage. Abhimanyu takes Akshara's side. Mahima asks Abhimanyu why he didn't interrupted when Anisha was accuses. Abhimanyu asks everyone to give time to Kairav and Anisha instead of doing argument. [Episode Ends]
Precap: Akshara says to Abhimanyu that once his hand will be fine he will go back to hospital. Abhimanyu says once he will go to OT he will take a time to come out. Anisha asks someone to go back before anyone sees him. Akshara spots Anisha with someone else
Also See: