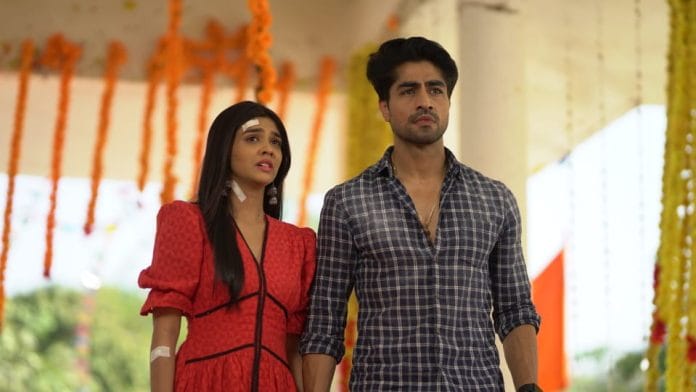 Yeh Rishta Kya Kehlata Hai 7th February 2022 Written Update on TellyExpress.com
In today's episode; Abhimanyu asks Akshara if she is angry with him. He apologize to her for leaving her alone. Abhimanyu asks Akshara to get habituated as he is a doctor. Akshara gets angry and asks Abhimanyu why he hide things from her. Abhimanyu think Akshara learned about Anisha. Akshara disclose she was pranking on him. Abhimanyu says one day Akshara will give him heart attack. Akshara says to Abhimanyu that they should talk more as they rarely spend time together. Anisha interrupts Abhimanyu and Akshara's call. Abhimanyu hangs up the call. Anisha pleads Abhimanyu to meet her urgently. Akshara think if Abhimanyu is stressed because of that girl. She think who that girl is; Abhimanyu's patient or someone else.
Anisha asks Abhimanyu to take her to the restaurant as they can't go home. Arohi spots Abhimanyu and Anisha. She spy on him. Abhimanyu sees Arohi and hide from her. He think if Arohi saw him with Anisha. There, Mainsh gets ready to go in a meeting. Akshara decide to drive for Mainsh. Mainsh first refuse to take Akshara's help. He learn no driver or other car is available. Manish takes Akshara's help. Swarna and Suhasini gets happy. Akshara wish Manish forgives her. Manish refuse to react. Akshara wait for the day when Manish will forgive her. She further decide to call Abhimanyu. Akshara tries to call Abhimanyu but couldn't reach him. She call Manjiri and learns Abhimanyu went to the camp. Akshara learns Abhimanyu is not at the camp.
In the meantime, Abhimanyu calls Kairav and asks him to meet him. Kairav gets ready. Here, Neel decide to surprise Abhimanyu. He takes Akshara with him. Abhimanyu says to Anisha to let him handle the matter by his own. He gets shocked seeing Akshara and Neel. Neel asks Abhimanyu if he liked his surprise or not. Abhimanyu worry if Akshara will spot Anisha. He tries to escape the situation. Akshara understands Abhimanyu is stressed. She excuse herself. Abhimanyu gets happy thinking Akshara understood him. He gives her a hug. Neel learns about Anisha.
There, Mainsh asks Hari to get well soon till he will look after merchant association on his behalf. Harsh decide to befriend Hari. Akshara bumps into Anisha. Anisha convince Akshara to take her home despite Abhimanyu's warning. Later, Harsh asks Manjiri to talk with Abhimanyu as patients want to get diagnosed by him only. Here, Akshara bring Anisha home. Kairav stands stunned. Swarna asks Anisha if she studies. Anisha explains her boyfriend break up with her saying family will not agree thus she is here for him. Kairav decide to meet Abhimanyu. [Episode Ends]
Precap: Kairav asks Anisha for visiting his house. Abhimanyu worries seeing Anisha and Goenka House
Also See: